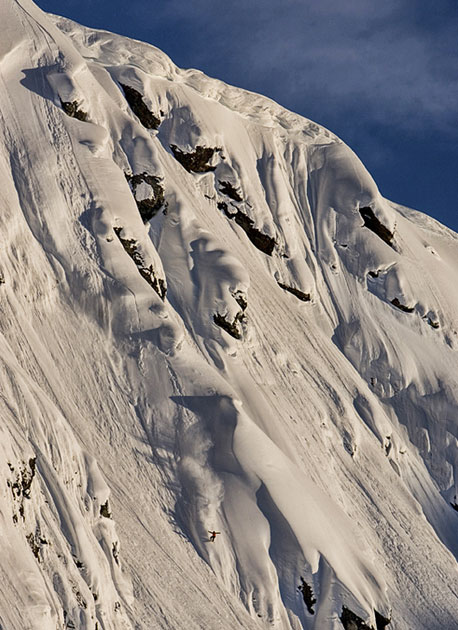 Just now breaking into the US market, 29-year-old French native and Rossignol rider Xavier de le Rue took top honors in just about every extreme or big mountain contest held this past season. Quite a feat in itself, but considering the previous year where he barely survived the single heaviest avalanche ever caught on tape—for now, he's content to be alive and breathing. In fact, drop the name Xavier to any serious professional snowboarder and watch them shake their heads in disbelief: The man has respect.
So why haven't you heard of him?
Has it become the norm in the world of mainstream snowboarding for the professional freerider to get overlooked in place of the X Games halfpipe superstar? There's a place for this argument, but is it one worth fighting over? Beyond the big endorsements, flashy kits and teenage fan clubs is a world where to be bothered with too much acclaim and stardom would ultimately take away from the experience of what it is to be a big mountain rider. These guys are in it for nothing other than the pure passion and feeling only the mountains can provide, and Xavier—he embodies this sentiment.
Like the rest of the hopelessly deranged, Xavier made his way to Alaska in April to finish up his spot for Standard Films new flick, "Black Winter." This is where I caught a glimpse into his life.
Read the full interview here.