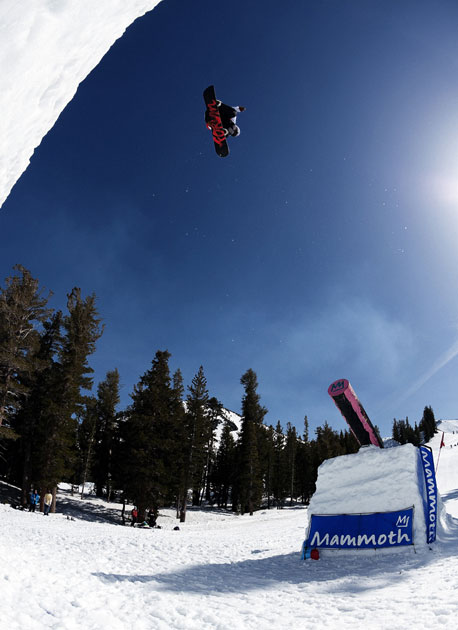 Just checked in with Forum team photographer Tim Peare, who is posted up in Mammoth this week with a big chunk of the team. For the last few days Joni Malmi, Stevie Bell, Pat Moore, Eddie Wall, Jake Welch, and a slew of the Ams have been up on the mountain every day, filming on multiple features and bagging shots for the upcoming "Forum Forever" team movie.
The setup yesterday had the crew sessioning a 30-foot pole jam, "a piece of a lift tower actually," says Peare, which then shot the riders over a 25-foot gap.
Wind was an issue earlier in the week, but conditions have turned ideal the last couple of days with the shoots usually going early afternoon to dusk. "This is the last breath of the season, and we're working non-stop on the movie." says Peare.
On the Forum Am tip, teenage Finnish sensation Nikki Korpella has been killing it with front 12s and double backside corks. Before this shoot, Peare had never met Korpella but when he saw his riding was like, "Who is this guy?" Proof once again that Fins have some weirdly superior park riding gene.
Other Ams include Niko Cioffi out of Rutland, Vermont. Cioffi will likely have a full video part this year. And Cameron Pierce of Salt Lake is holding it down, as is Ethan Morgan. "We're giving all the am kids an opportunity to ride with the pro team, step it up and show us what they got for real. It's all on themselves to make it happen," says Peare.
On the pro side, Pat Moore is killing it, like usual. He's been trying to do 1260s but so far has only been doing perfect 1080s. Can't say we feel that bad for hiim.
But we do feel bad for Jake Welch. One of the standout riders from Superpark (held here in Mammoth a week earlier), he suffered a shoulder tear on Wednesday night and will be out for the remainder of the shoot. Welch was doing a 1080 and laid back a bit too much on the landing.
The shoot will be going on for a couple more weeks, with a new batch of Forum riders arriving next week.