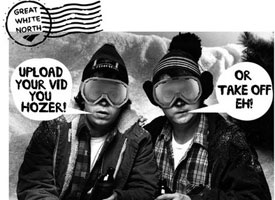 The most common question I get from young hungry groms is without a doubt, "How do I get sponsored?" I always tell them to do contests, make a name for yourself at your local hill and then start traveling to regional contests if you can. Don't tell people how good you are; show people how good you are. And then of course, there's the sponsor me video. You need to have one. And these days it's never been easier. Anyone can film and edit,
something
: The quality isn't what's important, it's the content.
So, IS Eyewear just got a fancy new video player and they happen to be in the market for a few good up-and-coming shreds. What better way to showcase their player and find some new riders than to hold a Sponsor Me Video contest? Until May 20th, IS is accepting videos from anyone and everyone. Team rider Devun Walsh then goes through and picks his favorites. Simple. "Kids send in videos all the time, but they never know if someone is going to take the time to view it, so it's pretty cool to have someone like Devun who has put out so many video parts to actually watch your video. He's going to watch every one," says IS Marketing Director Karl Fuhre.
If your stuff looks good enough, you could land a spot on their AM team, or maybe they'll just flow you a giant box of goggles and shades. Either way, it's an opportunity to floss your skills. "And honestly, we're just trying to get people who are into our brand more involved," says Fuhre.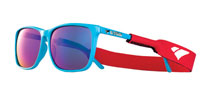 A couple videos have already gone up—peep these two submissions from Danny Buller and Leo Hoom. Now you know where the competition stands.
In other IS Eyewear news, Fuhre says team riders have been hyped on their new Belvedere shades."It's the hot ticket item, and they come with a party harness that doubles as a floatation device." With spring conditions in effect, it's not bad to have shades as an alternative to goggles. See the full IS collection here.