Contest season is about to kick off, and the winningest man in BMX has a problem: phone reception.

"Give me five minutes, and I will call you back," says Daniel Dhers, the 24-year-old Venezuelan who has dominated the BMX park competition circuit for the past three years. He can work his BMX bike into and out of any position possible, including backflips, 720s and front-flips, but finding a decent signal among the rolling hills of Amish country in Pennsylvania is proving to be a bit more difficult.

Pennsylvania? Yes, that's right. Thirty miles outside State College, Pa., lies Woodward Camp, a training facility for action-sports types, including BMX riders. It has also become Dhers' adopted home -- the place he rests his head between winning X Games gold medals and Dew Tour overall titles. He first visited in 2004 after being invited by another Woodward-based BMX pro who was performing demos in Buenos Aires, Argentina. Since then, Dhers has returned each year to train. But the story of Dhers' epic rise to BMX competition domination started long before his annual sojourns to the U.S. Like many great success stories, Dhers comes from humble beginnings.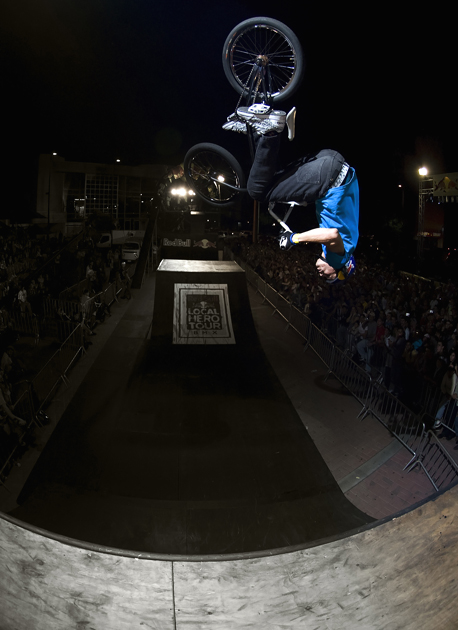 It started with the purest of intentions in Dhers' hometown of Caracas, Venezuela. "I got into riding because I just wanted to hang out with friends," he says. "We were just riding bikes like regular kids, then after a while, one of my friends started bunny-hopping, and it got my attention. We started hanging out with other riders and after the first time they took us to the skatepark, I decided that that was it -- I'm going to keep riding BMX." That was 10 years ago, and the BMX scene was not fully developed in Venezuela (and isn't to this day). It was difficult to obtain a bike, let alone high-end components from respected BMX brands. "We could only ride one of the two available brands: GT and Haro," Dhers recalls. "Then we got a component brand in the country, but it was so expensive. There were never top-of-the-line components; it was always midrange or lower, and we'd go through parts all the time. In '98, an importer brought one Dave Mirra Pro bike into the country, and that was it. It was the only high-end bike in the whole country." At age 16, Dhers' parents moved the family to Buenos Aires. The new location opened Daniel up to a more developed BMX scene -- one with new skateparks to ride and more progressive athletes to emulate. "The sport had been around longer in Argentina, and the level of riding was pretty high, even for that time. The first time I went to the park, I saw guys doing backflips and tailwhips, and no one in Venezuela was doing stuff like that. Moving to Argentina was definitely a big help to my riding," he says.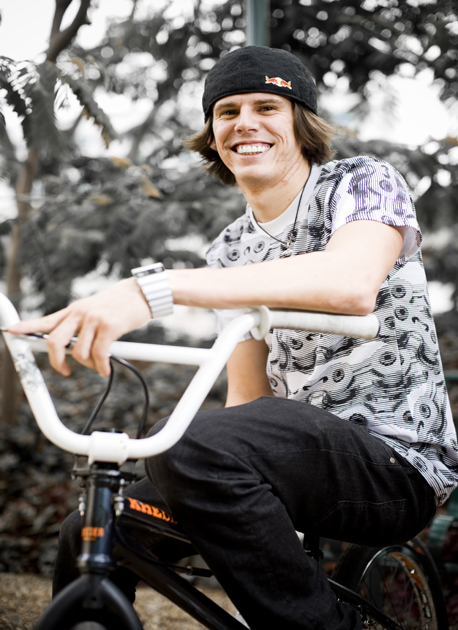 The move also connected Dhers with veteran vert pro Tom Stober, who, on a whim, invited Daniel to Woodward Camp in the U.S. "I met Tom in 2003, and he invited me to come stay for a couple weeks. On the last day of camp, I really didn't want to leave, so I asked what chance I had of staying. I ended up staying two months. The next year, I was back for three months. In 2006, six months. Then in '07, I stayed for nine months. Every year, I stay a little longer. So I've pretty much been living here since 2005," Dhers says. Of course, it's not all fun and games for a Venezuelan citizen to live on American soil for more than half the year. There are legal setbacks, like obtaining visas, that Dhers wrestles with every year. "It's pretty annoying," he says. "You have to deposit money just to set up an appointment at the place that processes visas. And it's up to the government, so your appointment might happen tomorrow and it might happen in four months. Right now I get an athlete visa, and I have to get letters from fellow athletes and bike companies to vouch for me." Dhers is working on obtaining a green card, which would allow him to spend as much time as he would like in the U.S., perfecting his style of riding and enjoying the life of a top professional BMXer. He has been careful to avoid the pitfalls of success, choosing instead to focus on his riding. In fact, Daniel doesn't necessarily view himself as recognizable. "I'm still the same person as before. Now I have more responsibilities, but I still act the same. I like seeing a photo of myself in the magazines or a video of myself, but it's still just me riding my bike and wanting to learn new stuff. There's no reason to change, and if you're going to change, change for the better, not the worse. Becoming well-known at a young age can end up backfiring," he says.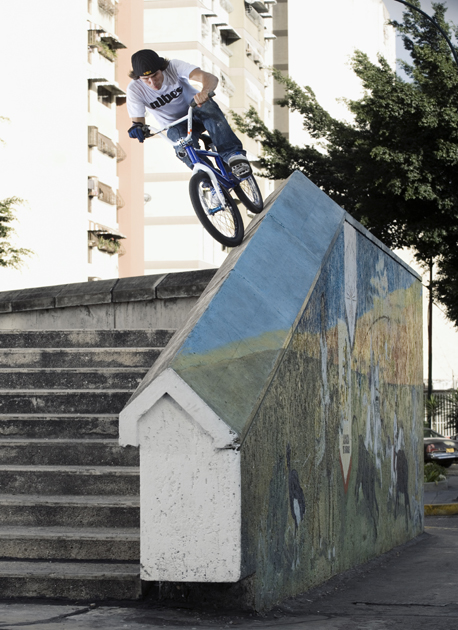 To his credit, Dhers' riding continues to improve. He possesses a focus that is unmatched among the pro ranks -- a focus that, at times, has pushed Dhers to attempt the same trick for eight hours at a time, until the trick was perfected or his bike was malfunctioning. "If I'm really determined to learn a new trick, I just keep trying it until I lose my mind or until I throw my bike and it breaks," he says. Though Dhers has mellowed in recent years, he still rides around two or three hours a day. "I just know what I want to do in a given day and I just go and do it so I can be happy with the day," he says. "Before, I would try every single trick I know for hours and do everything that I could. I've always been like that. I've always wanted to learn tricks, and I've always been practicing. And I hate falling." Since arriving on U.S. soil, Dhers has avoided falling enough to win overall Dew Action Sports Tours in BMX Park in 2006, 2007 and 2008. Dhers has also won X Games BMX Park gold in 2007 and 2008, in addition to gold medals at the LG Action Sports World Championships in 2006 and 2008. To say that he's on a roll would be an understatement; Dhers is, quite simply, dominating. His brand of energetic riding is wildly consistent. Couple this with the fact that he can adapt to any skatepark with moves like flatspin 720s and front-flips over spines, and it's easy to see how he's become such a winning rider. All this wouldn't mean much if not for his calculated mental focus. But winning isn't everything. "If I'm going to a contest, I'm definitely going to try to win. But there's another part of riding," he says. "I don't go out to ride and force myself to come up with new tricks because a contest is coming up. That hit me at some point last year. If I'm riding for fun, rather than forcing myself, it's easier to learn tricks. It takes the pressure away. I know at some point, I might stop competing, but I still want to keep riding and be involved in the sport."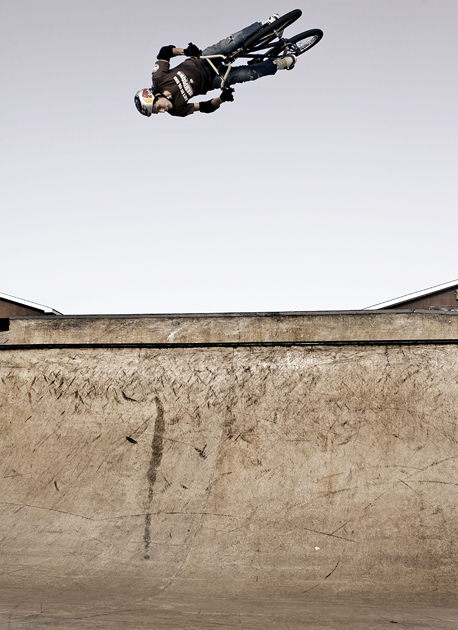 There's more to Dhers than just bike control, a lengthy list of contest wins and a laundry list of sponsors that include Red Bull, DC Shoes, KHE Bikes, POC Helmets, Albe's, Team Blowin' It and Woodward Camp. Granted, Dhers might not do much aside from ride his bike, surf the Internet and try to find some semblance of normalcy in his unorganized room at Woodward Camp, but he's passionate about the current state of BMX and its future. "I think BMX is conflicted right now," he says. "Street seems to have taken over. Every kid wants to ride brakeless with pegs, but everything goes in cycles. I remember when I started riding, it was street riding, contest riding and vert. Vert was more important than park, then park took over, now vert is at the lowest part of the chain and street is pretty high. Right now I'm riding a street bike setup: a brakeless bike with four pegs. I can't understand how some riders can jump 18 stairs to flat with no brakes. I don't know where I was when everything changed." Ultimately, Dhers simply wishes to see more unity among the many factions within BMX. "Before, everyone rode everything," he says. "Now, everyone has gone off on their own. It just feels weird to not have disciplines like flatland and dirt at contests."
At the heart of the matter, Dhers is a BMX altruist. But these altruistic beliefs for the sport he's given his life to -- the sport that's given Daniel the chance to fulfill his dreams -- haven't stopped him from achieving what few before him have. Dhers has risen from relative obscurity, against all odds, to become one of the world's winningest BMX pros. All this without losing sight of what's important for himself, his friends and his sport. In simpler terms, he is the consummate professional: humble, appreciative, amazingly progressive and not afraid to lay it on the line for what he believes in. Now if he could only find some decent cell phone reception.

xgames.com