While most of the Americans boys from the Dream Tour are going blow for blow out at Trestles right now, you might notice that Gabe Kling isn't there. For that matter, Klinger didn't surf Bells either.
Gabe tore himself up at the 6-star Prime O'Neill CWC in Tasmania. During his heat, he tried to blow the tail out. The tail, however, had other ideas, and he came down with all of his weight on his right leg, which folded beneath him.
The Floridian, who first qualified for the 2007 tour, surfed one of the worst years for waves the tour has ever seen, then requalified in 2008. Dude just can't catch a break. After loosing to Tom Whitaker at the Gold Coast Pro, he winds up injured in Tasmania, missed Bells and has to sit out Tahiti as well.
This was a painful tweak too. He's got an ankle sprain, a torn meniscus, and a torn MCL.
"It hurt so bad, I thought I was going to throw up on the inside. I made a big scene, kinda embarrassed after the fact, but it hurt so bad. I left my boards withCJ and got on a plane home," he recalls, "Thanks CJ." Doctors put him in a boot with crutches for a few weeks, but now he's up and around.
So what does a pro surfer do when he can't get on a board?
"Its been driving me crazy! I might start sponging," he says.
Actually, here's what he has been doing.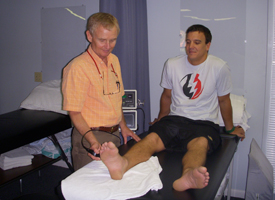 Physical Therapy
Three times a week — Monday, Wednesday, and Friday for 2 ½ hours.
"They have me picking up marbles with my toes, using rubber bands, and a lot of balance exercises. There is a funny bunch of older ladies in there that are really impressed with my monkey feet. I picked up 4 at once and now they all watch and comment on it, I'm the marble man!"
Nintendo Wii
Mario Cart
Tiger Woods
Fishing
Florida guys. They all fish. Gabe and boys went angling for Cobia. Hey, the guy's hurt and still putting food on the table.
Movies
Slumdog Millionaire
The Day the Earth Stood Still
Yes Man
Nights In Rodanthe (okay, we made that one up.)
Watching the NFL Draft.
One thing these Florida guys love more than fishing is NFL football. Season doesn't start for four months? No worries. They're all over the draft. They were even 'Skyping' with Jimmycane Wilson, who's living in California and working at Surfing Mag.
"The Jags got some good players and are gonna be sick next year. Superbowl bound!"