Most ski town inhabitants realize last call is just a threat. Chairs stacking all around you, locals getting lippy, that whole, "You don't have to go home, but can't stay here" kinda thing? Thing is, you know that self-service is a few short paces away, and that it could lead you somewhere uncharted, maybe even somewhere closer to home.
See, that's the beauty of snowboarding ... yes, snowboarding. And with 10 feet of snow remaining under foot, Baker made their last call on April 26. Traditionally, this would be enough to make a girl hide in a Peekaru with her dog and enough fried dough to phone it in until fall, but not this time. Not today.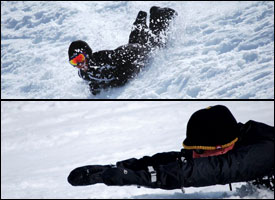 This particular closing day showcased typical shenanigans, but contrary to the standard-issue 60-plus-degree spring days experienced in most western states, 50-degree April days in the Cascades are occasions fit for disrobing. Slush, sunshine aplenty, dudes in neon one-pieces with chests bared, chicks in capes with chests bared, hippies strumming bass in paisley with chests bared and dogs sporting backpacks with chests bared filled time slots between the occasional run and après and barbeque sessions. Good times didn't necessarily take place on a snowboard or set of skis, but noboards, lunch trays and telemark monoskis also found a place in Baker's heart on Sunday.
Despite the fact that Baker and Bloody Marys for breakfast don't jive, I stayed. And so did the dude in the chicken suit as well as the guy going as Winnie the Pooh. But they, too, must have found out there was birthday cake on-site, courtesy of everyone's new best friend, Gus, who turned four on closing day.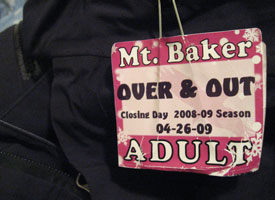 No one goes to closing day to ride snowboards—not when the coming days bring more slush, warmer temps, freshly groomed greens, dried concrete surfaces, propane-powered animal cookers and most importantly, a winter that never actually ends. Luckily, not only have we propagated our freedom and McNuggets on a global scale, but we've also spread snowboarding to places that our sun frowns upon during the summer months. It's always snowing somewhere.