No, not cross dressing, you weirdo. And it has nothing to do with that that tool, John Edward.
We're talking Action Sports Dream Team. Imagine a squad with Bjorn Leines, Christian Hosoi, and Tom Curren? Bjorn is one of the most burly backcountry brothers, Hosoi has been a messiah on four-wheels for nearly three decades, and Curren. Well...You know.
The trio teamed up for the Ultimate Boarder contest last week. In it's second year, the Ultimate Boarder, an event that combines surf, skate, and snow skills — as the name implies, for an ultimate champion, really bought out some big names. The rode and launched at Big Bear, shredded a world-class ramp at the Ventura County Fairgrounds, and then ripped into C-Street.
This snow/water/ramp comp saw some of the original sideways renaissance men like Dave Downing and Christian Fletcher, plus new crossover heroes like Shayne Pospisil, John John, and Tosh Townend. Then you had dudes who are straight up legends like Shaun Tompson, Caballero, Todd Richards, Andy Mac, and Curren competing in one discipline for a specific team.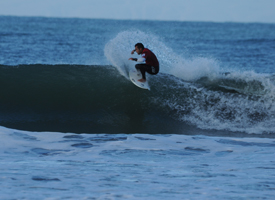 This year, Lost Skate Team Manager,Chad Shetler won the $30,000 take home. He aced the skate event in '08 and this year posted a second in Skate, 3rd in Snow, and respectable 28th in the waves with a few frontside lippers. Kristian Phillip took second. Pool phenom, Omar Hassan (who can be caught shredding Gums during the Vans Triple Crown) took 3rd, with Jersey Shore snowboarder, Pos grabbing that 4th place spot. Last year's champ, Aaron Astorga, took 6th.
Gabe Garcia, of Carlsbad, cleaned up at C Street, but he finished 40th place in snow and 40th in skate. Eric McHenry, who fared pretty well in the overall in '08, didn't seem to skate or ride this year. Tom Curren helped propel Team Hosoi. He probably would have skated, had that event involved gardening gloves and gnarly downhills.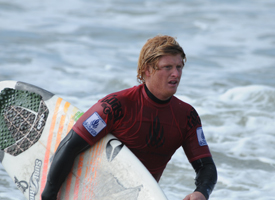 From the first two years of this event, it has become apparent that the skaters are the most versatile.
So, which watermen fared the best overall? Well, in all fairness, Pos is a surfer, even if he spends most of the year on the hill and beat out anyone who gets paid to snowboard. Then there's Volcom's Mike Morrissey, who finished 5th, with a 9th in surfing. Cheyne Magnusson, noted for his park prowess finished 8th. Christian Fletcher, back in action, took the number 10 slot. Not bad for a bunch of surfers.