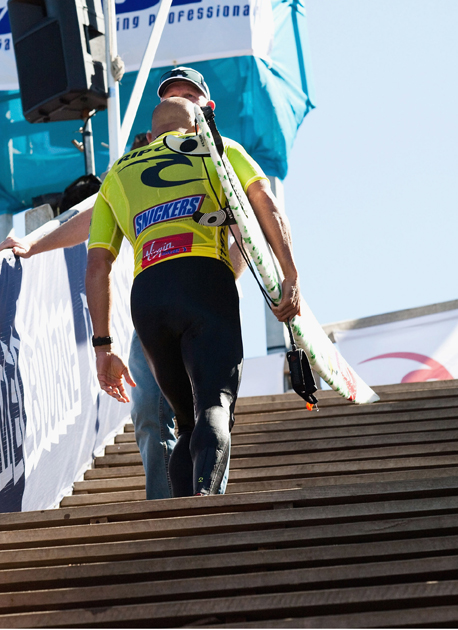 By now I'm sure you've heard. At the
Rip Curl Bells Pro
, Aussie-super-junior-phenom-wildcard-kid, Owen Wright handed Kelly Slater a cold pint glass of bitters. I figured I could tell the story, or I could just go to the most trusted source we have in today's media-saturated society — a message board.
I thought I'd post the rambling of those who live and die by events like these, the fellas who haunt the Fantasy Surfer message board. Now, ironically, this week I got word from the top that there will no longer be any cursing in the ESPN blogs. (I'm from New Jersey, so it will be a struggle.) So it took me a while to clean up the banter of these surf fans. I even had to pull some disgusting stuff about meat and sauce. But don't worry, I left in every charming typo.
You could almost hear the simultaneous breaking of one million hearts in Florida last night.
Everyone has an opinion, and with today's technology, they can espouse it between six packs. Seems the Seppos thing Kelly got underscored. The Aussies think he got what was coming to him, and someone is trying to set up a cage match between the US Olympic Baseball team and the Australian National Cricket Club.
For your enjoyment, I give you the soon to be classic, barely legible, "Kelly Got Underscored":
04/13/2009 08:47:43 PM shacked inc.
He surfed way more on rail, m uch better wave selection, way better turns....Those floaters of Owens looked like Richie Collins 20 years ago.Lame and old.

4/13/2009 8:58:24 PM shacked inc.
kelly should have rode a standard 6'0. but i still think he got robbed.

4/13/2009 9:00:15 PM Eat My Pie
Good, time to step aside and let the young blood through, hopefully he will quit and take Dane with him, so we dont have to listen to you Seppos crying everytime they lose for the rest of the year.

4/13/2009 9:01:47 PM Gas Monkey
aussies are controversial control freaks

4/13/2009 9:04:38 PM Eat My Pie
We sure are Mr Monkey, controversy keeps everyone entertained.

4/13/2009 9:05:47 PM team beer bellies
Eat My Pie, Give me a break. The Aussie "push" in this contest is a joke! Adriano got burned!! No Seppo crying there obviously....Judges suck

4/13/2009 9:05:47 PM Gas Monkey
i know just how to keep an aussie enertained

4/13/2009 9:06:03 PM shacked inc.
crying seppos....your joking right...why would be crying over the last 20 years? Because of Tom Currens, Andy Irons, Cj Hobgoods, Derck Ho's,or Kelly Slaters World Titles. I will give you aussies credit though. You guys are great at pulling down second place. Elko, Horan, Parko, Taj....ect We will always rule you mutts!

4/13/2009 9:07:15 PM Eat My Pie
There you go, crying again waaaaaaaahhhhhhhh!!!!!!

4/13/2009 9:07:23 PM shacked inc.
Lets not forget Sunny's World Title either. You s*ck, and so does aussie surfing.

4/13/2009 9:07:24 PM Matts Pigs
*burp*

4/13/2009 9:09:32 PM team beer bellies
Eat My Pie, Give me a break. The Aussie "push" in this contest is a joke! Adriano got burned!! No Seppo crying there obviously....Judges suck

4/13/2009 9:13:14 PM mown
I will eat your pie if you shave your down under.

4/13/2009 9:13:20 PM breaker boy
I'll be surprised if Slater wins anything this year. When he gets his tenth he will retire so why not have the judges make him wait. I for one will lose interest when he is gone so I understand the dodgy judging to keep me watching. It's a crooked bloody sport at the best of times.

4/13/2009 9:48:21 PM thirsty lizard
andy,ho and garcia are hawians and cj only won cuase of terras.A dozen world tittles to mr tc bl dh mf mo mf. Why dont ya bleeding tissue blowers smo...

4/13/2009 10:35:47 PM Baja Cartel
Kelly got beat by a more in-form surfer regardless of the scores.

4/13/2009 11:10:40 PM surflab
breaker boy u hit the nail on the head, slater will not win this years world title its in the asp best interest to dangle that 10th world title in front of him for the next couple of years for a million reasons

4/13/2009 11:45:01 PM la mas alcoholico
Pie..... how do you like the fact that Kelly losing is bigger news than your same turn over and over losers are winning. pretty funny.

4/13/2009 11:47:45 PM la mas alcoholico
poor aussies, without american domination they won't have anyone's style to emulate. that could be the end of aussies surfing all together.

4/14/2009 12:10:51 AM CHOKERS
so entertaining watching you guys whine you never step up and say anything positive (like when jordy blitzed round 1 — all the haters were quiet) just whine sour grapes when things go wrong give credit when its due Slater himself admitted that he got it wrong and needed to make that 2nd barrel - why can't the rest of you live with it roll with the punches — take the good with the bad slaters won plenty plenty controversial heats in his career didn't hear many slater fans complaining then
I'll say something tho
the aussies are serious cricket chokers tho!!!
my avatar stays

4/14/2009 2:29:13 AM kook masters
Saw the score this morning on the rip curl site and went straight on here to count the number of 'slater whine' topics. You guys didn't disappoint.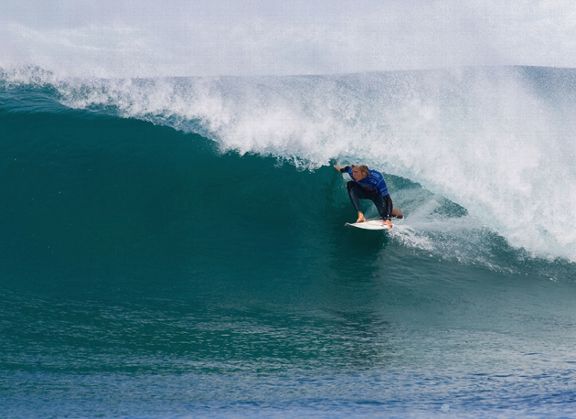 4/14/2009 2:53:45 AM CHOKERS
bang on kook masters

4/14/2009 3:38:31 AM Club Flinders
You forgot to mention Phil Macdonanld at Trestles. Guy got robbed big time. Oh yeah Aussie cricket sux big time right now. The Americans didnt win the baseball world title either!

4/14/2009 6:57:50 AM CHOKERS
yeah and I can take a poke at your cricket and you'll wear it on the chin (knowing full well you guys will come back strong again too) and not come up with a million excuses

4/14/2009 7:17:26 AM orca
Kelly was outsurfed. Just get over it.

4/14/2009 7:21:58 AM soul surfers695346
Like at Snappers, Slater wasn't surfing that good. Seems like he is almost falling off on alot of his manuevers - he did do a nice snap in the barrrel, but overall his style was wanting.

Big mistake for him to have started playing around with board designs -put him in a funk, he lost his rhythm that won him the title last year. Hey Kelly, ever heard of the expression "if it aint broke don't fix it"

4/14/2009 7:41:42 AM GooeyGobbler
Kelly got underscored You're always a winner in my heart Kelly

4/14/2009 7:44:05 AM Cloudbreak SD
Maybe Kelly is looking to have some fun.
Maybe, he wants to see what he can get away with.
What Kelly is doing is way harder than using a bigger board.

4/14/2009 7:52:41 AM CHOKERS
interesting point that fanning makes in his interview about him being nervous cause he hadn't had a round 1 heat to get into rhythm

4/14/2009 7:53:48 AM soul surfers695346
Agreed Cloud what he's doing is way harder and it shows. You are also right that Kelly likes to challenge himself and make things interesting, but I think he should do that after he wins 10 he aint getting any younger.

4/14/2009 8:01:45 AM orca
true Chokers.... how many events are going with the new format this year? might be a long year for Kelly but hey, it's only two contests so far. how many 17th's did he have last year?
4/14/2009 8:02:07 AM LB Flow
Slater's two big top-turn-snap wave was def UNDERSCORED...hucking much more spray than OWEN's ...Kelly did seem out of sorts though...rolling up the windows on a couple come togethers...

4/14/2009 8:03:14 AM Bada Bing
I think Owen beat Kelly...no doubt actually. Adriano on the other hand...he should of ripped a throat or two from those judges. I've never seen anyone get pushed the way they pushed Drew Courtney.

4/14/2009 8:06:05 AM Broken Bong
Shacked, that floater was critical on his back hand, the King was just out surfed. He had no rhythm, just take your medicine and enjoy the rest of the contest. have a little faith you know sl9r will be back.

4/14/2009 8:12:12 AM Mckennabrowny
the death of rail surfing.

4/14/2009 8:12:56 AM Broken Bong
what does that mean Mck?