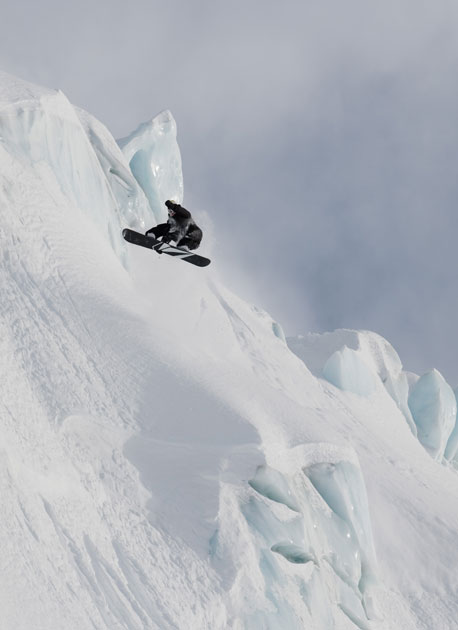 It was no doubt a surprise when last fall the core of Burton's Un Inc team was released. Without warning JP Solberg, DCP and Romain DeMarchi were all unceremoniously given the boot. If it still sounds ridiculous, that's because it is. How can three guys who built an image just be let go like that? Like the rest of us, Gigi Ruf was left wondering what the hell was happening. As the last founding member of a brand that claimed to be so adamantly against the corporate model, Gigi too saw it was time for a change. I recently spent some time with the man in Switzerland and caught up on the new and improved 2009 Gigi.
Last fall some changes went down right?
I basically got the opportunity to become part of
Volcom Snowboarding
. Leaving Burton was for sure hard. I made a lot of good friends and had a lot of good times but in the end it was a tipping point. And I saw that more than ever I was sharing a lot of the same ideas more so with the people at Volcom. It was also good to change from the management at Burton to a little looser company. I am really looking forward to a new way of traveling now that I don't have a team manager around... I also get to work with more and different photographers now, which hopefully will give me a new insight into the world of snowboarding. That was one reason I made this decision as well. I became so locked into seeing snowboarding only one way. Now hopefully I will be able to take more of it in and see just how big this little world is. Ha! I also thought that if I didn't do it now that I might never. After 12 years things just became a little bland and frustrating at times. For me personally, I just wanted to find out what it would be like to be out there in the big open sea rather than in the same little pond.

I got some really good advice from one of the (Volcom) co-owners back then, he said, 'Stay loyal.'
You don't have to answer this if you don't want, but did this have anything to do with some of your friends getting cut? DCP, Romain and JP Solberg along with you seemed to be the core of the Burton team...
You see Un Inc was very important to us. For years we had the independence and creative freedom to do our own thing but for some reason that was slowly lost as the company changed direction. Looking back I would have liked to see more communication as to all of our options and why everyone got cut. To us it didn't make any sense (the reasoning). We just thought all of the options were explored. I don't know if they just wanted a new invention of the hype or what. But to answer your question, yeah, it freaked me out. We are all so close, so seeing that happen really hurt, but it also made me think, "Why not me? And if not now maybe next year or whatever." So that is why I wanted to take hold of my situation and realize my own dream of doing something more fitting to myself and to create something all the while giving back to the kids. I want to be part of that! I have that kind of enthusiasm that I put into my sponsors and with Billy Anderson at Volcom, he understands that and has always allowed me that freedom. It's pretty freestyle.
So you are pretty excited, eh?
Yeah, so much. But I want to emphasize that Burton is the one that got me here. It was just a decision I made... without any bad feelings. I owe a lot to them and all of those years... but things change and I had to do what was best for me.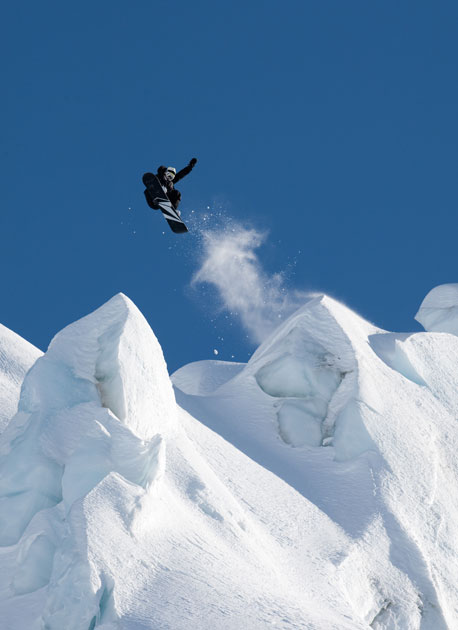 What can we expect to see different now that you have this freedom?
Hopefully nothing! As far as my riding goes, I think I was on a pretty good run... The thing is Burton has changed a lot. So I wanted to keep it to my own pace and be happy with the people I work with. I just had a feeling that if I wanted to make a change I had to do it now. I kind of wanted a different routine and to see the other side of it. Basically, I still get to ride with the same guys, my old crew... actually, I get to ride with more people now! Working with new and different photographers will be fun too because they are not locked into these contracts as well, so maybe that will be better too. I'm really happy about going freestyle again. I put myself in this position to go my own way, which more than anything is what I was really looking for. Being on a steady schedule before was kind of getting to me so now that I can be a bit more random about what I do and who I choose to work with is awesome.
Cool. So even before Burton you were with Volcom streetwear right?
Yeah, since I was 13. They supported me first! They left a big impression since the beginning and always made me feel like I was a part of something. I used to love the big baggy pants and stuff they gave me back then because it was different and it made me feel like I was a snowboarder, which is cool when you are so young. I also got some really good advice from one of the co-owners back then, he said, "Stay loyal."
You mean, stay loyal to Volcom?
Actually, he meant for me to stay loyal to Burton. Because back then I was riding for this distribution company in Austria and had my choice of at least five different companies to choose from. And a lot of riders who were on that program would choose to switch it up all the time. So when I got to know the owners of these companies when they would come over to visit, it made more sense what he said. I was so young I didn't know how to go about anything but I started to see how riders that were involved with the company more could put themselves into a position to have more say in that brand. It was a way to work your way up the ladder and gain respect. So I really tried hard at Burton to work really hard on my snowboarding and stay involved and loyal to them at the same time. I learned so much from all those years.
How has the response been within the industry when they heard you were "single" again?
Well, like I said, swimming in the big open sea after I had a good home in a little pond was kind of scary and I found out that there were all kinds of nets out there trying to catch me too. So there have been a few big sponsor changes in just a few months. I realized that I don't have to ride a Burton board and bindings to perform! That was really satisfying.
So the transition wasn't as hard as you might have anticipated?
A couple of the sponsors are really new to me and getting into the whole working process has been different. Like, they don't know how reliable I am or anything but I guess that is up to me.

The thing is Burton has changed a lot. So I wanted to keep it to my own pace and be happy with the people I work with. I just had a feeling that if I wanted to make a change I had to do it now.
Exactly who are the new sponsors?
Well I will say that there were more than a few nets out there trying to snag me but I think I dodged a few of the ones that didn't make sense. But for now
Volcom Snowboarding
is obviously the big one.
Nike
is my boot sponsor. I was kind of cautious about that but after talking with their team riders and seeing that the product was the best out there I think I made the right choice. Also I wanted to make sure I could identify myself with the company and I think after some research and talks with everyone Nike has a good future in snowboarding with integrity as well. After the boot deal, I had like three binding people after me but I after some more talks I decided with
Union
, which has proven themselves for many years now.
More than anything, what would you say you base these decisions on?
I didn't want to limit myself. Coming from Burton I didn't want to lack on any professionalism and performance so I definitely tried the products before I signed but also it was important to know the people behind them were people I could trust. Of course it sounds lame to say but money was a factor too... I didn't want to sell myself short. You have to remember it wasn't until November that I was making any of these decisions so everyone's budgets were spent. On top of that the whole economic thing going on made it that much tougher for companies to compete. In the end, I just went with my intuition.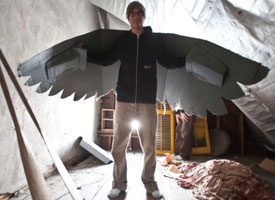 So now that you are riding a Volcom snowboard I am sure that people are going to want to know if and when they will be available.
Well, there is no answer I can give you for that. I know there are some little tweaks we need to make but the ingredients inside are super good quality. Maybe a couple of years... but it's not a question I can answer. I am just excited to create something again! I feel more excited than I have been in a long while. For me I am just trying to have as much fun as I can with it. But this has taught me that change is good. I know it is risky but I am trying to remain calm but in the end I know it will be a good move as long as I remember that snowboarding is still about fun no matter what. It is nice to break out of the mold and know that I am putting my all into this. If I do that I don't see how it won't work out. It is a learning process for sure and it's coming at a time when I am learning about all kinds of other things as well.
Like what?
Well, I have a kid now! This is changing my approach to everything obviously. I'm just continuing my good times! I have a wife... I have the fame and the fortune... the next thing... I don't know... I am just along for the ride!