No, Ian doesn't really have 80 illegitimate children—that he knows of. Oh!
I'm talking about that metaphorical patriarchal roll he's taken on Maui.
"This weekend, it's amazing, just gets bigger and better every year and it feels amazing to be able to give back to the kids of Mau" says Ian Walsh regarding his 6th Annual Menehune Mayhem comp.
Just like Shane Dorian who has his keiki comp on the Big Island and Bruce and Andy who do their Pine Trees thing on Kauai, as soon as Ian had the means, he popped up a tent in the Hookipa Beach Park, threw a few dogs on the grill, and invited every grommet he could think of. Thus, Menehune Mayhem was born.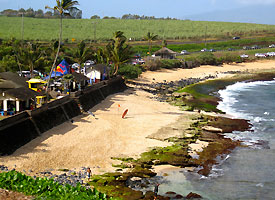 "This is where I grew up surfing, and to be able to have a day like this, I would have been so stoked as a kid," tells Ian.
Last weekend over 80 kids showed up for Ian's party (hence the , and as always the grill was smoking, the swag was flowing, and everybody had a good, old fashion family day at the beach. The talent bubbling out of Maui's no bullshit, seriously gnarly kids coming up, and over the years this comp has been great for scouting talent. Not to be let down, young Iami Duvault and Ian "The Llama" Gentil both made multiple finals. Duvault took the Boys 11 and Under, while Gentil took 2nd in Boys 12-13 and 3rd in Boys 14-15. Grom of the Day Award went to Joao Muffani. Keep an eye out for all of these kids, I guarantee you'll see them again.
So there you have it, just another day in the life of Ian Walsh…dude's gotta do something, when was the last time Jaws had a wave?
Special Awards:
Girls GPA - Tasha Jahmarkt (4.0) Boys GPA - Makana Johnson (3.8) Kazuma Surfboard - Shawn Frerking Steve Cooney Award - Kody Kerbox Eric Diaz Award - Miles Serifica