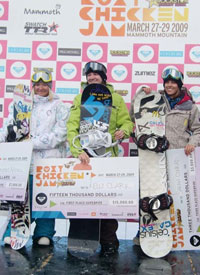 The halfpipe portion of the Roxy Chicken Jam finished on Saturday with Kelly Clark pulling out the win. Her run went fairly standard with a Frontside Air, Backside 540 Mute, Frontside 540, Method, Frontside 720 and a Cab 720.
Top Three:
1. Kelly Clark
2. Mercedes Nicoll
3. Sarah Conrad

Slopestyle delayed:
High winds rolled into Mammoth on Sunday, and the slopestyle event was pushed to Monday. The format will give each rider two runs. The top 12 riders will move on to the finals, where they will have three runs each. There will be a short break between the two sessions, because of expected high winds in the afternoon at Mammoth Mountain.
TTR Title depends on slope outcome:
The TTR crowning will take place after slopestyle finishes up and all the points are tallied. Kjersti Buaas, Lisa Wiik, Cheryl Maas, and Kelly Clark all are looking good for a top three TTR finish.