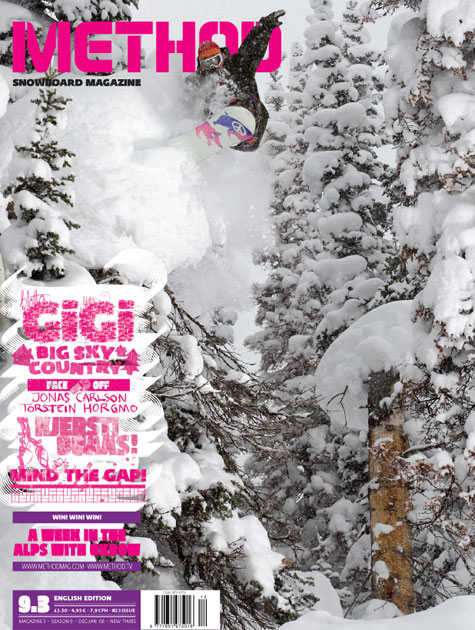 Almost everyone who works in snowboarding chose to do so for one reason: to live the dream. Whether it's a kid in a shop sweeping up sh*t, a marketing department intern eating sh*t or a bedroom blogger writing sh*t, the payoff they all want is that endless winter, shredding continent after continent, blazing through exotic cultures, and party, party, party! Unfortunately most people don't realize that the dream is only for the chosen few. Of course the pros get to live it, they invented it, but for the rest it will remain just that, a dream. That is unless you happen to be Thomaz Autran Garcia, Editor-in-Chief of Method, Europe's most primo shred mag. TAG as he's known, is living the dream. Listen close as he drops knowledge on what it took to make it happen.
So, How long have you been at Method?
I started at Method in April 08, so almost a year now.
What were you doing before that?
I was running Snowplanet, from '02 through '08 basically. I was also the Skate Editor for UNO, a Barcelona-based skate and art mag, I actually still do as much work as I can for them, although that has dropped off quite a bit since I took over Method, just too much on my plate these days... But I still try to be as involved as possible with UNO as well.
Can you tell me about Method? Some of the basic stats, years in business, issues per year etc.
Method is going to turn 10 years old this season! Quite the milestone, I must say, especially since people have written Method off so many times before. Method began life as a website in '94 (it was actually one of the first thousand registered domains ever), then evolved into a video magazine, and only became a print mag about 6 years ago. At first Method's video magazines were on VHS, then DVD, then once the print mag came out there was a cover mounted DVD until 2006, when Method TV went live. Basically all the video content was moved online, it was the first streaming IPTV site in the snowboard industry. So now we have four print mag issues per season, Method TV and our site, which has been there from the get go. Triple threat baby! Oh, and we've also produced three trick tip videos called Methodology, and we'll probably be producing v.4.0 this summer.
What makes Method a special magazine?
Method is special because we don't underestimate our readers' intelligence. We have a very clear vision of what we want to accomplish and we don't pander to anyone, we call it like we see it. Snowboarding used to be full of crazy, iconoclastic characters and these days everything is just so vanilla, we just want to bring some of that rawness back to the scene.
Does Method compete with Transworld, Pleasure, etc or exist in its own space?
Well, Transworld is a North American mag, so it focuses more on that part of the world. Back in the day TWS was more of an international entity, but in the last decade they have turned their attention more towards the US scene. As for Pleasure, we definitely compete with them in the German-speaking market, along with all the other German-language mags. Basically we compete against all the national mags in their respective markets, and against other mags at the pan-European level. We like to think that we are doing something different from everyone else though, be it editorially or visually. But I guess it's up to the readers and advertisers to make that call.
Is it challenging to produce a mag in multiple languages? Do you oversee all the content? Does a lot get lost in the translation? Do different languages convey different things about riding? You speak a few languages right?
It is quite a challenge to produce a mag in four languages, for sure. Basically it means you have to do everything four times, so it's really time-consuming and draining. But that is just the way the cookie crumbles for pan-European titles, there is such a variety of cultures here that you don't really have a choice but to publish in multiple languages to be a viable player in all the different markets. I oversee all the content, it's the same in every edition, the only thing that changes is the language of the text. I guess different languages convey snowboarding in different ways, but I don't think much gets lost in translation. We work with very knowledgeable translators and editors, who also happen to be snowboarders, so they fully grasp the source material. I speak three languages fluently (English, Portuguese, Spanish) and working on my fourth (French).
What are you favorite things about the mag, editorial speaking?
That I am able to portray snowboarding the way I feel it should be portrayed. It's important to showcase legit riding, but still try to be irreverent and not take ourselves or anything too seriously. It's just snowboarding, there are a lot more important things to take seriously in this world.
What are your favorite things about being the EiC at this mag?
My favorite thing is that I have pretty much carte blanche to cover what I want, how I want. It takes a publisher with gonads to let the Ed-in-Chief make controversial calls that could potentially cost the company money, but in the end our ultimate motivation is to be the true voice of snowboarding and we're prepared to take some hits to ensure that. We certainly aren't in this business to get rich, that's for sure.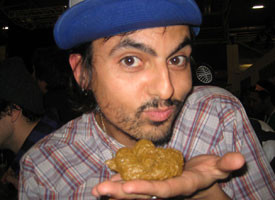 Is this the best job you've ever had? Is this a dream job?
Well, I've had some pretty choice gigs in my life, but I guess this one is definitely up there. I've learned a lot about being a boss at Method, I never really had to manage a staff before and it is easily the most challenging part of my job these days. The best thing about it is that I get to combine two things I am passionate about: snowboarding and making magazines. So yea, despite having to put out the occasional fire, I think this could definitely qualify as a dream job. I certainly worked really hard to get to where I am right now.
Is Method TV the future of Method? What's popping there? Will print live?
Method actually started life as a video-magazine, so Method TV obviously is a key part of our business, and we are definitely going to be producing more original content in the upcoming years. I think by anybody's account, print is taking a beating right now, but I have no doubt that it will survive as a medium. Of course a lot of publications are going to go out of business because of this recession, but the ones who are able to reinvent themselves and stay relevant will consolidate their position in the market and become even stronger. No matter how good computer monitors get, you just can't beat well-printed magazines for resolution and quality.
Are you guys linking with already established filmers / film crews for Method TV?
Absolutely, we are media partners with crews like People, Think Thank, Skeleton Crew, Variety Pack and several others this season. Every year we sign up to five or six media deals with film production companies.
Are you producing most of your own content?
We do produce most of our own content, mainly it ends up in Method TV episodes. Generally we put out a 30-minute episode per month. We also produce the Methodology videos, and the occasional stand-alone edit. We are also commissioned from time to time to produce content for brands and events.
What filmers are killing it right now?
Some of my favorite guys are Pierre Wikberg, Per-Hampus Stålhandske, Eddie Grams, Justin Hostynek and Brusti, Justin Hare, Vincent Urban, Pierre Minhondo and Corey Koniniec, Joe Carlino... There are a LOT of guys really doing amazing things in film/video right now.
You've been involved in smaller publications, on the startup side, right? Is that era dead? Can someone still get in the game from scratch?
I was, with Snowplanet, although I don't know if you could call it a start-up actually. They've been publishing mags since '94, so they've been around the block a few times. They are definitely small and independent, and I honestly feel that there will always be space in this industry for smaller players. In the end, the kids don't feel any connection with a corpo approach to snowboarding, they tend to prefer smaller, indie companies that are run by real snowboarders and not the bottom line. I'm not saying it's easy, and if your goal is to make money, I can honestly say that the snowboard industry is not for you. But if your heart is in it, people will be stoked on your sh*t and you will survive.
What's your favorite cover you've published at Method and why?
I like all the covers we ran at Method this year, but if I had to pick only one, it would probably be Gigi bashing a tree pillow in Jackson Hole. Big ups to my boy Blotto for nailing the shot!
What's the thing your most stoked on in your career as a journalist?
Doing it my way and never settling for less!
Switching it up, how has the season been in Europe this year?
This has been an unbelievable season in Europe, it just keeps dumping! This year I easily had the most powder days I've ever had, and rode the deepest, lightest snow I've ever seen in my life. We also saw a lot of North American crews come out to this side of the pond this season, as conditions were just all time throughout Europe. Thank you, Ullr! Hope it doesn't take a couple of decades to see another year like this...
Who's killing it in over there right now? Which euro riders are going to become household names in the US? Anyone we should we be paying attention to and aren't?
There is a French rider called Arthur Longo, he is on fire right now, he actuallyjust won the Arctic Challenge last month and is filming with the Pirates this year. Another kid who is killing it right now is Elias Elhardt, he's from Germany and has one of the best attitudes towards snowboarding and life I've ever seen. Ridiculous shred skills too. Some other names to look out for are Ståle Sandbech, Niki Korpela, Halldor Helgason (Eiki's little brother), Daniel Ek, Patrick Burgener, it just boggles the mind how much talent there is in Europe.
Are there major differences between the shred scene in Europe and the US, stylistically and/or culturally? What are some you've noticed? Do you prefer to be based in Europe?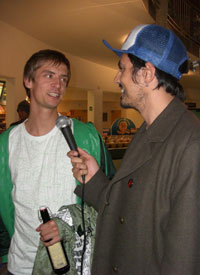 In the States people are a lot more focused on progression, it seems. In Europe people are more relaxed, they just want to go out and have fun with their friends and not stress so much about their level of riding or filming a trick. Also, US riders are a lot more preoccupied with their gear and general appearance. I dunno, it just seems like Stateside people are always checking each other out in the lift line and making judgements on someone's skill based on their kit. In Europe you see these crusty f--kers on super old gear who shred harder than most pros, it's just a different mentality.
What are some of your personal favorites in Europe? For backcountry?
This is a tough one, the backcountry in Europe is literally endless, there are at least 20 lifetimes of untouched terrain to pick and choose from. I guess it all boils down to what type of terrain you like, wide-open bowls or more cliffs and chutes. My personal favorites are certain zones in the Arlberg in Austria, and the Engadin valley in Switzerland.
For parks?
Long gone are the days when Europe had no parks, or even worse, some sorry excuse for a park. Nowadays you can find amazing parks all over Europe, but the best are mostly in Austria and Swtizerland, spots like Mayrhofen, Laax, Flachauwinkl, Saas Fee, there's also Avoriaz in France. In the summer the place to be is Les 2 Alpes, they build a massive park for the camps, but it is also open to the general public.
For city rails?
They are kind of played out by now, but Helsinki and Stockholm are unbeatable for street shredding.
For parties?
I'm gonna have to claim Barcelona for this one, Barcieeeeeeeeeeee!
For girls?
There are smoking hot girls all over Europe, but if I had to pick only one spot it would be Scandinavia, it is seriously out of hand up there.
What are you stoked on most in snowboarding? in life?
In snowboarding, that's easy, shredding POW! As for life, that is a bit tougher... I guess I am most stoked on being happy, healthy and of reasonably sound mind, hah.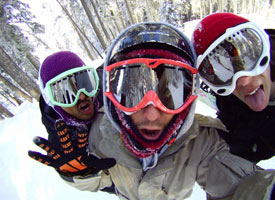 Finally, you're from NYC by way of Brasil and you are the Editor of Europe's dopest shred mag, how did that come to be? Can you take me through your personal history?
Wow, now that's a long story... My mom and my pop are both Brazilian, she's a writer and he's a diplomat. I was actually born in London and moved to NYC in 1977. Yep, I'm that old, hah! Anyways, spent my formative years between NYC and Europe, moved to Brazil in the mid-80's, started skateboarding in '87, finished high-school in '91, college in '95, worked in São Paulo for a hot minute and moved back to the Big Bad Apple in '96. I was still fully focused on skateboarding but had tried snowboarding for the first time a couple years before in Big Bear (CA). When I got back to the city I copped my first set-up and started hitting the local hills, Hunter, Windham, Vernon Valley (that was how they used to call Mountain Creek back in the day). I finished my Master's and spent the next 4 years shredding and partying as much as my body could handle, which turned out to be a lot. During the winter of 20011 came out to Barcelona to visit my sister. After a couple weeks in Barcie, I decided that this was going to be my new home, flew back, packed my shit and moved it all out to BCN. I had some money left over from New York, so I just waited it out, tried to find a job I was actually into and a few months later met a guy who owned a local shred mag called Snowplanet. He offered me a chance to write for the mag and I jumped at it. I had to find a second job since they didn't pay me at all at first, but I put in the hours and the effort and in time I was hired full-time as the editor of the mag. I did that for 6 years and I guess people liked what I did, because when my buddy Jason decided he'd had enough of the snowboard industry and bailed, I was offered his job at Method as the Editor-in-Chief. Ever since I took the job I spend most of my time in Innsbruck since our editorial office is here, but I still have my apartment in Barcie, no way I'm giving that up.
What's gonna be in the next issue and when is it out?
It is still a little early to know exactly what is going in the next issue, as most riders are still out shooting, filming and traveling. Once May rolls around I'll have a clearer picture of what stories will go in each issue. Issue 10.1 will be out in newsstands and core shops across Europe in early September.