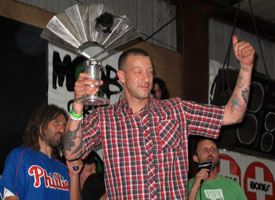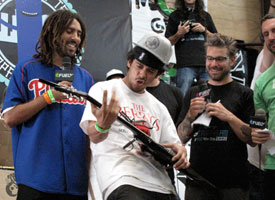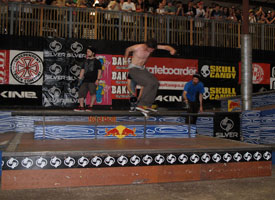 Well, the comp just ended and Greg Lutzka emerged victorious. In the finals each rider got three runs and the best run was the one that counted for the judges. This format made for some unique situations with plenty of skaters slightly blowing it, until their last runs. Dudes including Greg Lutzka, Paul Rodriguez, Chaz Ortiz, Jani Laitiala and Keegan Sauder really turned it on for their final runs while other guys began to show fatigue as the heat wore on.

Lutzka pulled a flawless final run that included 270 flips and frontside 360 noseblunt on the rail after flailing and bailing his first two runs. That last run though, was enough to edge out all the other competitors and that's really saying a lot. The level of performance and talent at this year's Tampa Pro was unparalleled.

Taking second and third, respectively, were Paul Rodriguez and Chaz Ortiz. Both skated amazingly and clearly take contests very seriously.

Outside of the top three, it was really great to see some truly raw and unique skaters make it into the finals and showcase a different kind of skating that you don't always see at comps. Keegan Sauder, Brian Anderson, Dennis Busenitz, Pete Eldridge and Peter Ramondetta are not exactly the typical "contest breed,' and that made it all the more fun to watch.

Best trick was held on the "Tech Center," that consisted of ledges, manuals and a flat bar. In a jam format, all the pros mobbed the same setup going for their most tech and creative tricks. I was sure Torey Pudwill was going to win when he started coming insanely close to feeble grind backside flip out on the flat bar. He even squirreled away from a few but didn't land one clean enough to please the judges.

In the end, Shut skateboards' Javier Nunez took the big prize when he pulled out a nollie 180 heel to switch five-o across the ledge. Gnarly.

The comp could never have happened without the heart and soul of the Tampa scene: Ryan Clements, Rob Meronek and Brian Schaefer. Big thanks to you all. Such a great time.Check the Skatepark of Tampa site for complete results and tons of stats on each of the 75 riders in the comp.