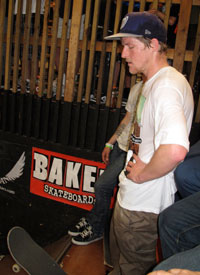 Well the semi-finals just wrapped and the pros are enjoying a brief respite from the crowds while everyone runs out front to indulge in one of the Skatepark of Tampa's sloppier traditions: the moat race. Every year the kids run through the sewer infested waters of the "moat that lies between the park and the road.
The top ten from the semi's advance to the finals along with the "golden ticket holders,"
Keegan Sauder
and
Paul Rodriguez
who qualified second and first respectively yesterday.
In the semis, the most fun dude to watch was
Dennis Busenitz
who sweated through two t-shirts and his pants while zipping around the course faster than anyone else.
Other highlights included: watching
Reese Forbes
ollie up the park's legit 7-stair,
Brian Anderson
pulling kickflip pivot to fakie up and down the bank to wall and seeing
Nick Dompierre
and
Justin Strubing
kill tricks across the quarterpipe and over the little pull-out wall. Justin's back tails are so ill.
In the finals (in no particular order) we have:
Greg Lutzka
Kyle Berard
Chaz Ortiz
Jania Laitiala
Peter Ramondetta
Jereme Rogers
Pete Eldridge
Greg Lutzka
Dennis Busenitz
Mikey Taylor
And the Golden tickets:
Keegan Sauder
Paul Rodriguez