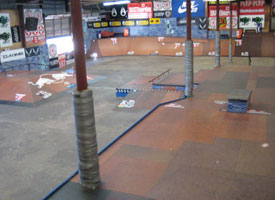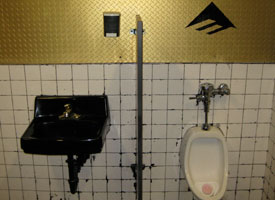 Arriving last night, with a plane full of so many skateboarders the messageboards would have fallen apart if it had crashed (in front of me, Appleyard; behind me, Carroll; Biebel and Jack Curtin in the back; Antwuan Dixon to the left of me ((goo-gooing and ga-gaing a cute baby sitting in front of him, which was a pleasure to see))—Tampa is everything I imagined. It's bars and hot weather and dark vacant streets. But, it's a sweet event, too, with rad cats all around.

Basically, it's been a blast so far an I've only been here for a morning. Tony Trujillo and Alex Olson, along with a bunch of the TMs and industry dudes are already ripping the course this A.M. Included are a few pics of the course and the bathroom, which is surprisingly clean (for now). It's where you crap and it's sponsored. I'm digging it so far.

Next up: The Team Managers and Industry Heads Royal Rumble.