"That's what I like about these ASP rookies. I keep getting older and they stay the same age."
Matthew McConaughey isn't so bad. I mean, I skipped that Surfer, Dude movie last year, although the trouble the paparazzi caused at Malibu did provide some nice blog fodder. A Time To Kill was right on. We Are Marshall was solid. He was pretty funny in Tropic Thunder. As I look at his resume on IMDB, it seems he's done a bunch of chick flicks that I've never seen, but whatever. He seems like an alright guy.
And, like many hip male celebrities — Bruce Willis, Edward Burns, Adam Sandler, Julian Shcnable — he surfs.
But then I came across this picture of Jake Brigance, aka Ben Finnegan, aka Coach Lengyel stand up "paddling," a skateboard.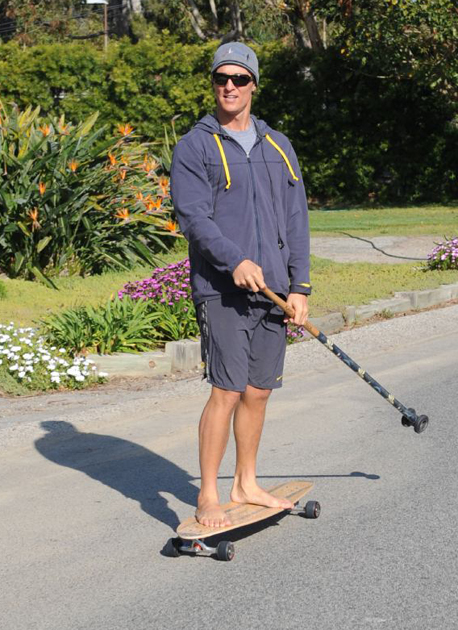 Look, I get why active, fit actors would be attracted to surfing. They've got time, money, and maybe a little leeway that regular beginning surfers might not have. So, they paddle out at Malibu or Montauk. I mean, I'd have more respect for them if they tried stroking out on a February day at Rockaway or San Fran, but we're not talking about Viggo Mortensen here.
Look at it this way. They have all the money and fame and they want a slice of the life that we live everyday, though they don't have to decide between a new board and paying the rent. They can watch the Boost Mobile from the competitors' tent. And I doubt the trunks of their Audis reek of that neoprene/piss/death mixture.
I get it.
You'd probably surf too. And being that money is no object and you can get away with anything, you'd probably get a SUP board. But why, if you are going to try to feel like a waterman, would you imitate the worst of our culture? That's like saying you dig boxing and going around biting people in the ear.
Mathew, and all others out there — this is not cool. You use a SUP surfboard when the waves are flat. (Even that's pushing it.) Or better yet, you skate when it's flat. Now, if you picked up a new complete skate set up, and were caught doing mean crooked grinds at Fontana Skatepark, you'd be a freaking hero.
You can get any girl you want and her two sisters. You have abs that make Billy Blanks look like Rush Limbaugh. Why are you doing this?
We don't care if you want to bite the surf style. Get some throwback surf trunks. Use the word 'sick.' But pushing a cruiser with a garden hoe is lamer than How To Lose a Guy in 10 Days.