A few months back O'Neill announced they would be running a five-stop Cold Water Classic Series. Billed as, "the most northern, the most southern, the wildest, the coldest, and the most classic surf contests on the planet," for those who like their ocean's frigid and their conditions wooly-booly, it is a tour within the tour. All but one event has a six-star rating or better, and all of them are held at high quality, intriguing surf locales.
On March 23 the first stop, somewhere in the general vicinity of the most northwestern tip of Tasmania, gets underway. Because of the points and prestige at stake, the function at the junction has attracted a diverse pool of talent. With a two week break between Snapper and Bells, some tour surfers have opted to stay Down Under. Rather than head back to the States, the Hobgood contingent reports they're headed to Tazzy to "check out the comp and explore Tazzy."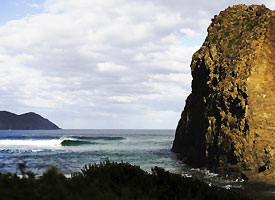 Then there's the serious WQS competitors, banking their careers on a result, desperately trying to make the jump from the Grind Tour to the Dream Tour. "We'll be there," said Pat Gudauskas, before jumping on a plane to Oz a couple weeks ago. "We're being smart about the events we do this year, and this is a big one. Plus we get to check out Tazzy, we hear there's sick waves down there."
Throw a few local boys in the mix and you've got yourself something interesting. "I've been exploring the Tasmanian coastline on and off for the past seven years," said Mark Mathews in a pre-event press release. One of the pioneering lunatics who put Shipsterns Bluff on the map, Mathews knows all to well what these waters are capable. "It is one of the most beautiful and at the same time, rugged coastlines in the world. I've ridden the best wave of my life out there and also suffered the heaviest wipeout of my life."
"I think the O'Neill Cold Water Classic series is going to be a breath of fresh air for the WQS" he said. "The rugged coastline and large swells in Tasmania will really test all the competitors involved and will make for a spectacular action-packed event."
After its stint in Tasmania, the Cold Water contingent stops in South Africa, Scotland, Canada, and of course, Santa Cruz round out the rest of the series. I think it's a bloody brilliant little scheme O'Neill's cooked up. Intriguing destinations with quality waves, valuable points, respectable money, plus if you've looked around in the lineup lately you're probably pretty aware that O'Neill makes wetsuits, and a series of cold-water contests, it's a no-brainer combination. We'll be bringing you more from Tazzy in the coming days and weeks, so until now just froth out on the Google Earth shot...and stay warm.