If you're tracking Julien Lopez, this much is trackable: Julien Lopez leaves few tracks. Further, Julien Lopez hates touring gear. He hates hiking too. He loves backflips though. And the flip loves him back. This is problematic only in that Julien Lopez, 27, forrmer French National teamer (moguls), is the guy that crushes landings and concurrently peoples' will with the same sort of business-like smile. Out of 10 big mountain comps on his radar this season, he's got five down—with two firsts, most recently at Snowbird, and everything else top 5—and five to go, starting Friday at Kirkwood, Calif.
With Lopez, it's also clear that for a guy who had one of his skis blow away—gone—at Taos a few weeks ago, he has remarkably good luck. Because then he had to ski on touring gear, and still he came top 5. Oui!
So did you bicycle from Salt Lake to California?
JULIEN LOPEZ: "No we flew. Salt Lake to Reno. Because we're French. We're not used to driving ten hours."
Nice win at the 'Bird. "Thanks it's my first time, Freeskiing World Tour."
You're in the States for the whole winter? "Total, almost two months. I flew in on the 18th of February and I'm flying back on the 25th or 26th. But then I'm coming back for two weeks to go to Alaska for the last stop on the tour."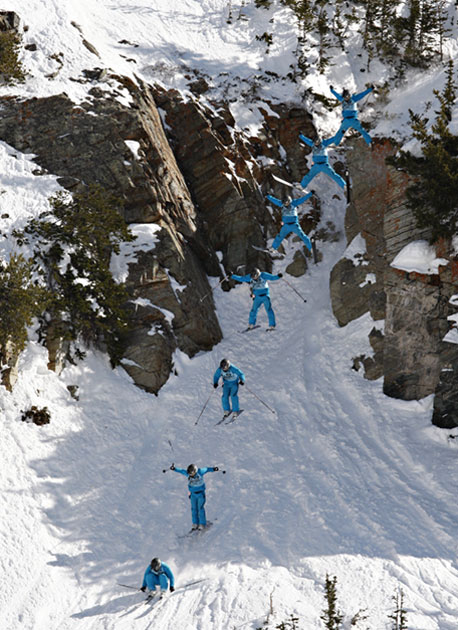 How long have you been on the tour? "Third year on it. I'm doing both tours [Freeskiing and Freeride world tours]. I was in Austria and France. And then I'm going back to Europe for one week, Slovakia, and then back to AK. ... I'm still trying to get in, qualified, with the Freeride World Tour..."
Comp history? "Loads. I used to do mogul skiing before; I was on the French National Ski Team, so almost 10 years in mogul skiing. Then I got into some freestyle skiing, halfpipe and slopestyle for a few years. But in 2004 I blew my knee and it took me quite a long time to get back on my skis. But once I got better I started competing in extreme skiing three years ago."
"It's really different, extreme skiing, from what I used to do and I really like it. Last year I had so many problems with my bindings, they were coming off so easily, skis just popping off, so last year was really my unlucky year. I wasn't lucky last year. But I've changed my bindings and I've gotten some more experience about how to win competitions. So I'm ready for it now."
So what bindings? "Well, one of his skis blew away at the top of Taos in 60 or 80 mile an hour winds while we were waiting out the comp. I had extra skis in case I broke one. But I dind't expect to lose a ski. The organizers of the competition brought me up a pair of rentals, so I had to ski on rentals with touring bindings."
You got it all fixed? "Now I'm on borrowed bindings, Look, from my friend Jesse Bryan from Sandy, Utah."
Comps this season? "Chamonix [4th], Crested Butte [5th], Snowmass [1st], Taos [4th], Snowbird [1st] and then Kirkwood, Alaska, Slovakia and Norway."
Best season? "Yes, my best season ever so far. I'm really happy right now. But you have to stay focused because nothing's done yet. I really still have to stay focused."
What's your impression of North America big mountain skiing? "There's a really high level here and people are sending it big. They're not scared at all."
"People sometimes think, he's coming from France, he's gotta be big. But that's not necessarily true. There's lots of great mountains here and lots of great skiers too. And I like to come here. And now because it's my third season, I know most of the people on the tour, all the riders and people from the organization and all the ninjas working for MSI. And what was really cool winning Snowbird, is I could see it on people's faces that they were happy for me. People came up to me to say, well done, you deserved this and you've worked for it too."
Are you friends with Guerlain Checerit? "Do I know him? Yes, he's one of my best friends."
Is he retired or what? "Yeah, he retired, sort of. Now he's created a ski company, they make skis, and he's working on that now."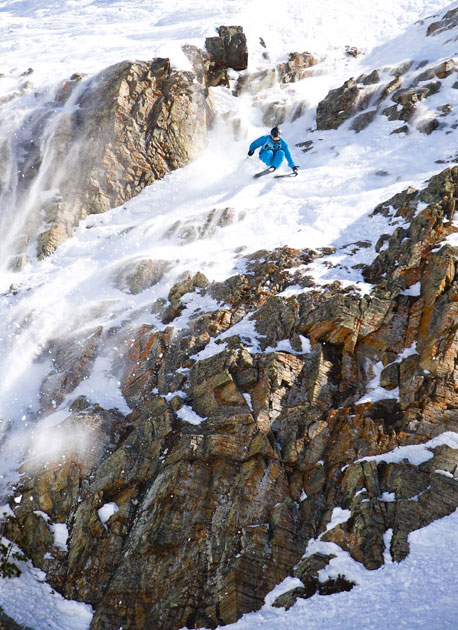 You're from La Plagne—what's the deal there? "It's not really well known. And it's not really well known in France either, and I don't want people to know about it either because it's the greatest place in France and we don't get too many people there. And we can't have more people taking our tracks, right? So don't come to Plagne... [laughter]."
Who else backflips? "I don't see so much of it. I think I'm the only one. I haven't seen anyone doing it really."
Born that way? "I like doing backflips. It's really cool. I've been doing backflips all my life. People love to see the backflip."
So from moguls to big mountain—how? "Yes, I was coming off my knee injury, and I decided to start skiing with Adrien Corier. You know him? He's third on the Freeride World Tour right now. ... But he had a bad crash in the Tignes event."
"When I woke up for Day 1 at Snowbird, I heard the bad news. He's getting better now. But we were all scared because he was getting worse two days ago, but now they say he's getting better. ... It's a back injury, but now he's OK. Some ribs broken too. ... We were scared about paralysis, because we heard he broke some vertebraes. And that's the sh-- that scares all of us. But actually he's going to be OK. He's going to be fine."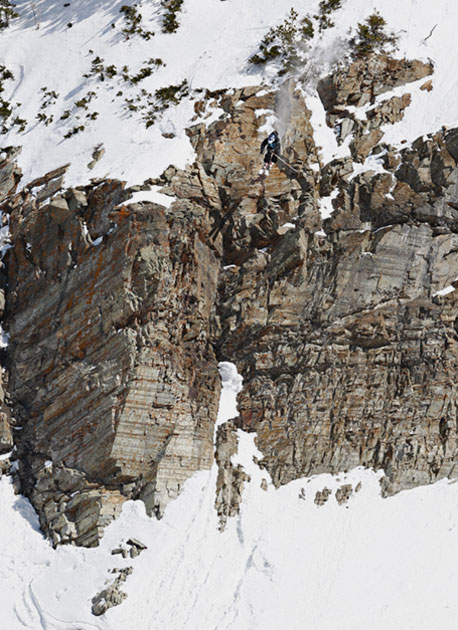 "It's especially hard when he's a really, really good friend. We used to ski all the time together. It was very hard for me, and it was really really hard for me to ski, for me to focus on what I have to do at Snowbird."
Approach at Snowbird? "It's really strange because I was skiing to enjoy myself, and for Adrien. I heard from Guerlain to tell me that. And Adrien, he's like my brother. So I was really affected by that. So I was skiing for him, and really just trying to get news about him, about how he was doing."
"So I was really skiing just because I had too. But on Day 2 I heard some better news about him, and I was skiing for him and trying to think about how it was when we were skiing together back together in France, skiing fast, clean and jumping some cliffs, maybe a backflip. Well, he doesn't know how to do backflips, but I do some for him."
"On the second run I was leading by four points—that's a lot—so I just had to ski down on my feet to win the comp. But I just didn't want to play that game about points. Trying to go for 32 points so I'll only jump one cliff or something like that. So I tell my filmer from the top, I'm going to take it easy, but I did the same run, but with a bigger backflip, and I changed my line at the bottom. ... The first one I did the big double, but when I saw the cliff coming up I said, OK, I don't give a f---. And I knew if I went huge I would win. And so everybody thought I was going to do a big spread eagle, but it wasn't really a spread eagle at all. It was more just of a YEEEEEAAAAAAAAHHHHHHH!!! I was just totally pumped, And then I stomped it. And even watching on film I was impressed with the look of it, how I was on my feet."
How does one stomp like that? "You just have to stay forward. And if you're afraid, you backslap or you crash. But if you're not afraid, and you're forward, you stomp it. Everything bad happens in skiing when you're not pushing forward."
Part American? "My mom is French and American; her dad was American. But she's lived in France her whole life."
How did you learn English? "When I was traveling around the world all the time."
How many years on the French National Team? "Two years."
World Cups? "I wasn't in the World Cup, but I went to the World Championshiops, the juniors, and came fourth there. And I was doing well, and maybe I shouldn't have quit it so fast. Maybe I could've gone to the Olympics. But I was young, so that's a mistake I made. I left a little bit too early. I could've gone to the Olympics. I should've done that. But I was really pissed off about what was going on and how the French National Team was looking after their people. I didn't really like that, so I decided to quit."
Are you the French Bode Miller or something? "I wish. That would be great. I've met him once. He's a really cool guy. He really knows what he's doing. So if you say I'm like the French Bode Miller, I'll take that as a compliment."
Is the French media following you this season? "It's starting. I'm getting some exposure so that's really cool for sposnors and for more people to know what we're doing. There were many people watching the live show on the Internet [from Snowbird], so I got loads of messages on Facebook and emails. And it seems like more people are trying to get info, and that's great. It's good to feel people are watching you. Or not watching you, but supporting you. It makes you feel confident."
"But my biggest fan in my grandma, she's 89, and she's still skiing with me. And she's on facebook, she knows how it works, and everytime there's a picture or video on the Internet she knows about it before I do."
Skiing in France vs. the U.S.? "In France, you can do whatever you want. We don't give a sh-- about a rope or whatever. You just do whatever you want. So it's not like in the States when you have a big powder day. Right before Snowbird I was in Alta and I was so pissed off. It wasn't a powder day. It was a powder hour. Or a powder two hours. Everything got skied up and we just have to wait for the ropes."
"In France you're really conscious about all that risk you have up in the mountains. You take care of what you're doing. Here in the States it's just about skiing. And I feel at a ski resort it's like entering an entertainment park. It's like being at Disneyland, no? You buy a ticket and you have to do what they tell you. And the lifts, they don't bring you up to the highest peaks you can find. In France, we've got lifts that take you to the top of the mountain; the door opens and it's like real big mountain. So when we go skiing we've got more time to try stuff. And I wish we could do that here, but the resort's are small and the runs are short. Otherwise, you have to go heli-skiing, which costs a lot."
"But I also feel like in the States there's more people in some resorts that are really good skiers. You don't see so many beginners or people who don't know how to ski. People are skiing very well here. And in France it's a lot of people going up to the mountains for holidays for a week or something."
Do you hike for turns? "Ski mountaineering? Oh, I hate hiking. Hate it. If I go hiking it's for something that's really worth it. Llike today, some friends went 45 minutes hiking for a 5 minute run. To me, that's not worth it. But I hike a little bit. And I think it's a good thing. It keeps you good shape. But I'm not really into hiking up, because then I don't have my real skis. You're on your light touring skis. And that doesn't work well for jumping off cliffs on the way down."
"I hate to be on that kind of equipment. I don't feel confident. Plastic bindings? Everything is really light. I hate it. So, yes, I like to do heli skiing. Who doesn't like heli skiing?"
"It's two different things. If I'm going hiking, I look at it like training. It's not for the way down; it's for the way up. And usually it's when conditions are so crappy that it's obviously not for the way down. Because when you're used to jumping 30 or 60 foot cliffs, you can't do that on touring bindings. Can't be done. Try it and they'll explode. You'll see."
Filming? "A little bit of filming. I might have some different segments for next year, but I'm not sure just right now. But I'm hosting a TV show next year in France, Ski Vibes."
What's the show? "It's about skiing, about how we do it on the snow. It's just in France and UK. We've done nine shows, two or three a year in the winter."
Website? "Yeah, but I think it's pretty crap, skivibes.com."
Sense of humor? "Yes, I have one. I see so many people so serious, but I think skiing is, well... At a comp, I am serious. I'm trying. But I also know what I'm doing. It's not like, I might go there, or I might go there. I know. I know the venue and I'm serious about that. But then when you're skiing, it's for fun."
"Iin the States everyone is pretty easy; they don't take it too serious. Some of them, but most of them are really cool. And back in Europe there's many people who are really really serious sabout competitions. But it's hard. Because if I get too serious about something, I'm not good at it. I get stressed. So I prefer to relax and joke around. I stay focused doing what I have to do, but I'm having fun. I couldn't wish to have a better job."
In the summer? "I chill."
And hike of course. "No. F-- hiking. I do train a lot. I've got a trainer and coach, so I do a lot of gym, work out, and I go surfing a lot. Because I can't be too serious either. I can't just push on some machines working out. I need to be outside. So I'm trying to find some different sports that give me what I like about skiing. So I golf a lot; helps me to focus on what I'm doing. And I do a lot of surfing as well; keeps your back in shape. And wakeboarding; that's just cool. And I play soccer; that's a good thing and I learn a lot. But I always need to have fun. If I'm not having fun, I don't like it. And I go sky diving as well to push my limits. And of course I work on my sponsors. That's a big time commitment. Beginning of May, right after the season, until July, something like that, you have to work for your contracts and all that. And it's pretty easy when you have sponsors you've been with. But in finding new ones, it takes time; you've got to come up with a media plan and it's hard work."
Do you have a conventional job? "That is my job. And I really take it like a job. That's my real job. That's how I make money. And if I do really well this season it's going to work for me even better next year."
Seems like you're slightly more pro than the other skiers on the Freeskiing tour, no? "I'm really suprised about that. Because I think in the States there's so much more possibility to make money from skiing. But I did go to school for this; business school and stuff like that. So I work really hard on my sponsors and I have people working with me on it and I think most people in the States don't really know how to manage that. Most of the riders could get so much more than they have. I'm sure they're trying, and I'm always triying harder and harder, but you really have to fight to get sponsors."
"You can't just go to a sponsor and say I want money and I'm skiing on your skis. You've got to give them something else. And that's why I've got the sponsors I've got, and people are sometimes surprised about that. But you really need to focus on what you're going to give them back; not just what they're going to give you."
College? "I don't know what you call it in the States. But yeah, I went to school til I was 25 years old, and I've done a marketing degree and a selling degree; something like business school."
"I think in everything you do in life there's maybe 70 percent which happens in your mind. You really have to get ready when you want to do something. And of course it's easier when you've got things behind you, like sponsors, and then you can just focus on skiing and being confident. And, like you said, skiing is the easiest part of the job. When you're just skiing you know you've done way more work behind the scenes to just be, you know, skiing."
"I don't know if it's an advantage for me. I would say anyone can do it. It's just a matter of time and how much you're willing to work for it. But you have to be sometimes at the right place at the right time and meet the right people and networking and all that."
So Kirkwood? "I've been there once; looks cool. It's a pretty long venue, there's different types of terrain and features and I like it. I think it's more like a European venue."
Backflips stomping grounds? "Oh yeah, there's always possibilities. It's just if you really want to do it or not, if you want to take the risk or not. The last one, at Snowbird, they loved it. But if you just do a small backflip, it doesn't even score you that well. But people still love it."
"It's good style. And people like it. And I really like to make people happy. I love to get ot the finish line and hear people screaming. Seeing people happy about what you've done, that's really a good feeling."
Does Guerlain backflip? "No, he does the front flip. He doesn't do the backflip. But he doesn't do them so much. But I remember this summer we went to Tignes together with Candide Thovex, and we started jumping this huge kicker. And then we put the pressure on Guerlain to do the front flip; Come on, just like in the old days. And he did one. A huge one. So he still knows how to do it."
How do you stay focused for the second half of your season? "I have to stay focused. When I used to do freestyle skiing I would do well, but I would get distracted by other stuff. So I know that about myself. And now I'm 27 and I love to ski and that's why I'm doing it; I can go partying some other time of the year. So that's the main thing in life. Always stay focused. That's the bottom line."
Favorite U.S. resort? "I don't know. I would say ... I like Snowbird because it's pretty steep and you can go fast. I like Squaw because it's more European style and there's a lake nearby that's really nice. And I like Jackson Hole as well. But I think the best resort, you know, it's the one you know the best. If you know a resort really well, well that's the one you prefer to rip."