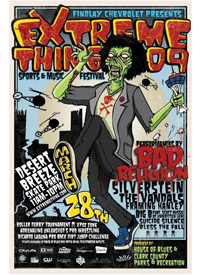 There are two great annual contests coming up on March 28th I need to tell you about. There's good and bad news though. The bad news is, unless you can time travel...there's no way in heck you're making it to both of these. The good news is, ones on the East coast and the others on the West, so that means there's a good chance you may make one of them, right?
First up is Ricardo Laguna's, Extreme Thing dirt jumping contest. Extreme thing is not just a dirt jumping contest either, there's way more to it then you think. Its part of a music/extreme sports festival held outside Las Vegas, NV in a city called, Desert Breeze and its a huge event that draws a ton of the Vegas scene. I completely recommend checking it out if you're in the area. Like I said, not only is Ricardo Laguna's dirt jumping comp awesome but there's AM comp's, live music, free food, giveaways and all sorts of fun stuff to do as well. The dirt jumping comp is invite only though, which means you can bet to see some of the best dirt jumpers BMX has to offer. I recommend not missing this one.

The 2009 Extreme Thing Action Sports/Music Festival will feature:
Bad Religion, Silverstein, The Vandals, Big B, Framing Hanley, The Higher, Taking Dawn (Formally 7th Son), Bless the Fall, Suicide Silence.
* Professional Wrestling Exhibitions from Adrenaline Unleashed
* Pro BMX Dirt Jump Competition hosted by Ricardo Laguna
* Roller Derby Tournament featuring teams from around the U.S.
* The XPOZ ZONE, a smokefree zone featuring 7 of the top local bands
* Food and beverages of all kinds available throughout the venue
* Vegas Red Bull AmJam Competition featuring over 130 Skateboard and BMX contestants
* The Retaks Expression Tour kick off with the first annual "Retaks Battle of the Shops" Half Pipe Skateboard Competition.
* A large band merchandising area next to the stages.

11:00am to 10:00pm
Doors open at 11:00AM
DESERT BREEZE SKATEPARK
8245 SPRING MTN. RD
OPEN TO ALL AGES

Extreme Thing is a youth driven event therefore there will be no alcohol served.

Secondly, is Tim Chiver's Bot Jam contest in Erie, PA. This is definitely more of a laid back type of jam and it's not really a serious event. It's more of an underground roots type of get together and if you're down for a little riding, chillin and partying, this is the place to be. Tim has warehouse filled with makeshift ramps out the sticks of PA and that's where everything goes down. They've been around for years and have appeared in many magazines and videos parts, like the old Square One vids. Todd Walkoviak, Chris Doyle, Chris Bennett and many other awesome locals are usually in attendance. The time and directions are listed below the flyer and if you know someone, it's always good to give a call first. All though, I don't think anyone will care if you just show and are respectful.