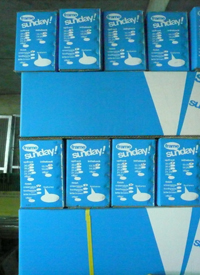 Previously, in Framed #2
, we spoke with Jim Cielencki of
Sunday
Bikes about his frames: which, make no bones about it, are technically more advanced than most BMX frames out there without being in the slightest bit geeky. We talked about the beginnings of Sunday as a company back in 2005, how he goes about refining the technology behind the frames, Black Magic paint, waves in downtubes, and hollow dropouts (though I've yet to get my angle grinder out and slice those dropouts up.) But, while I dive into my shed and find my Bosch 1801 5-inch Angle Grinder complete with directed airflow, epoxy coated field windings and service minder brushes, enjoy Part 2 of our interview with Jim. This time, we speak about how light frames could get, cruisers, and what makes the Sunday signature frames different from each other.
I've asked a few other people this, but with frames getting lighter and lighter, at which point do you think they will sensibly bottom out?
That's a weird one because there are a lot of variables that you might be able to live without. A frame could be made that is a three-plus pound frame, but it will only be for the skatepark and it will have a very short lifespan. If you are okay with that then okay, frames can be made that light. But to be honest, how many people just ride the skatepark? With the way riding is going, most people ride everything or at least a good portion of everything. Also, who has the money to be buying frames multiple times a year? My thoughts are that steel as a material can only take us so far, it's just the nature of the metal. I'm not saying we should try aluminum or carbon because that would raise the cost and change the whole dynamics of BMX frame building. I guess people have to figure out what's most important to them, money, durability or functionality. You're going to have to give up one of these to make a frame really light.

I guess people have to figure out what's most important to them, money, durability or functionality. You're going to have to give up one of these to make a frame really light.
--Jim Cielencki
On that note, what was the heaviest frame you've ever had?
Hmm either my Hoffman Big Daddy in 1995 or my Kink Empire in 1998. Maybe the Big Daddy because of the standing platform and the gigantic bolt used for the forks. We didn't really weigh bikes back when I had the Big Daddy, but my Kink was 45lbs around 1998 or 1999. I don't miss those days for sure!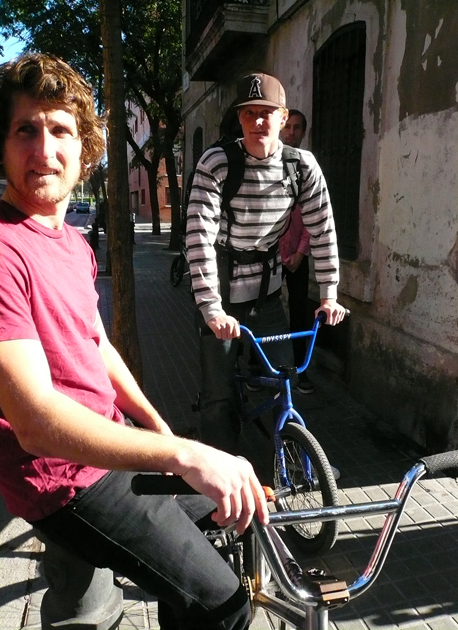 With working on Sunday all the time, what other frame companies do you admire?
I've been lucky enough to be riding since 1984 so I've been able to see a lot of companies. I appreciated Haro back in the '80s, there's so much detail in their stickers and just so much good design all around. Even though the bikes by today's standards can't compare. Their team was amazing and they advertised them so well too. I was so psyched as a kid. Then in the '90s I was into Homeless, Hoffman and Standard. Homeless was sweet because their riding was so progressive. The first Standard video blew my mind, I can remember driving 20 miles to a shop just to sit in front of their TV and watch it. I was telling someone about why I was into Hoffman the other day. Mat Hoffman did everything on a bike, so much stuff. But one day I got out of school early to go to the dentist, but we stopped at home first for something. On my kitchen table was the latest issue of
Go
with Mat on the cover doing a flip fakie. Up until that point most tricks weren't that far out of understanding (except for Joe Johnson's tailwhip air.) But a flip fakie on a quarterpipe? No way in the world could I have seen that far ahead. It blew my mind and is forever imprinted there. Lately though, I've been into United and Mutiny's ad campaigns, super clean and fresh. To be honest, I'm in my 30s and in the industry, so I'm really jaded. There is definitely good stuff out there though.
Also, where do you stand on the whole USA-made, Taiwan-made debate: obviously you build your frames in Taiwan, but what's your take on it?
Obviously I'm into the Taiwan frames because it is much easier for us to try new ideas and have them produced at a large scale. I've been to our factory and it is amazing. There aren't any sketchy labor practices and they have reinvested in their factory, so they are using all the latest machinery. To be honest, I think the whole Taiwan frame thing is a different argument then it was five years ago. They produce some really high quality stuff. I'm sure you can still find some really bad stuff there, but the best ones are really high-end. Now China is probably like Taiwan was years back. I'm sure there are good factories there too, but from what I've seen, they aren't at the same level as the best Taiwanese factories.

I asked Jay (Miron) this question a couple weeks ago, about cruiser frames. How's your Sunday cruiser working out?
The Model C is awesome! You could almost do a whole story on this bike alone. The term is incorrect for this bike because you can do pretty much everything on this bike. I was at Woodward West last week to try and put it through its paces. This is what I've noticed so far as compared to a 20-inch, opposite 360s are easier, backflips are more stable, 720s are possible and you can still do jump over grinds including over crankslides on it. It's weirder to 360 whip and do backwards rails, but otherwise it's so similar. Sometimes when you are riding it, you have to remind yourself which bike you are riding just because they feel so similar. Riding the Model C has really helped me understand a ton more about bike dimensions and their affect on riding as a whole. Last year was an eye opener for me. After my ankle surgery, I could only ride a fixed gear because the pedals always returned. I just couldn't push hard enough on a freewheeled bike with my injured ankle to ride it. That bike taught me about gearing sizes and how 25-9 just doesn't cut it. Then in October when we built up the Model C bikes, I understood exactly why mountain bikers never ride a 20-inch BMX. The main reason is that BMX bikes are so much smaller and way more unstable as compared to a bigger bike. If all you've ridden is 24" or above then you will be in a different world on a 20", it really is that different. Let me say this though, the Model C is not your everyday cruiser because its geometry allows it to be completely functional as a freestyle bike. You can't just buy a cheap cruiser complete and expect to do handrails. They usually have a race geometry that helps to keep the front end from coming up. Not exactly good for bunnyhopping.
With the cruiser being the fifth frame in the line, what are the main features of the other four?
Okay, the Funday, Ian Schwartz and Second Wave are all variations of the same thing. The Second Wave is the base, the Schwartz is the first frame with a welded on Pivotal post and the Funday has a lower bottom bracket and a shorter rear end. Ian was planning on doing a Pivotal seat when he was with Mosh and runs his seat slammed, so it was almost natural that it would be welded on. He had a good idea with that one. Aaron likes his seat to hit his legs at a certain point for barspins and with the higher bottom bracket on the Second Wave, he'd have to run his seat in a different position, and his FBM had a lower B/B too. Then we have the Model D which is our trail based frame. For this frame, we've removed the waved downtube and put traditional 5mm dropouts on it, plus we've added a longer rear end at 14 inches. The goal with this bike was to ride trails only.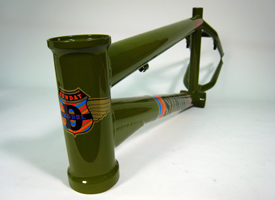 So, what's next from Sunday?
Tandems, side hacks, 16-inch bikes and unicycles! Nah, just kidding. Even though a bunch of Sunday Second Waves were made into sidehacks which is so much fun (despite the fact that I went over the bars four times just standing still on it.) There are a few plans in the works, but as soon as I mention them, I will get an e-mail requesting when it will be available. So I'll just say if you know our past, then you'll know to expect good things from us in the future.
Thanks for the lengthy interview Jim! Next time in Framed, we catch up with two more frame designers and speak more about what they put into their own frame designs, about the differences between USA and overseas manufacturing, and how much input their pro riders have in designing their signature models.
- Mark Noble