As of this post, CJ and Damien Hobgood were jumping on a plane heading to Tasmania to chase waves, fill up on seafood and have a go at the first stop of the O'Neill Cold Water Classic series. CJ returns soon to fill you in on what they find down there, but in the meantime, here's a little glimpse into what goes on when field testing a new batch of boards.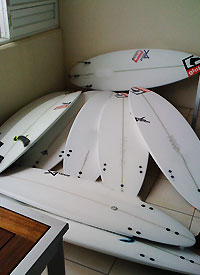 There they all are—the lemons that didn't make the cut for Damo or I. Unlike other sports, the process of finding a "magic" board is never-ending. You're always hunting, always searching. We came to the Gold Coast for the Quiksilver Pro, ordered a boat-load of boards from various shapers who we thought had the hot hands (and yes, we have to pay for them) and then we tried each for one surf. If they go well, they go into the "maybe" pile for the comp, and if they're water plows they go into the lemonade pile. After getting through all the boards we go back through the maybe pile for the comp and try them again to find a keeper, as well as those we'd like to use as backups.

These boards can vary depending on the conditions, and we work with Gally [Chris Gallagher], videoing and watching the footage. For example, if I think a board is working well and it doesn't throw any spray, then it's done—no spray on your turns equals no score. An average board throwing a lot of spray (like a firehose, a la Bede Durbridge) will win over a better board that doesn't throw much spray. So, that's kind how we go about figuring out what to ride in a comp.

Believe it or not, shaping machines haven't made this process any easier. Now that the Quik Pro is over, Damo and I threw our couple of magic boards in a bag and had them shipped to Bells Beach, where they'll be waiting for our arrival. The boards in this pile that you see get turned back in, then we'll order more and start the process all over again. Finding a board for Bells is harder as it's a really sloppy wave. No matter what you think, Bells is not that world-class. But we'll do our best.




party wave from goods on Vimeo.