Is this going to be the year of the claim?
If it is, I'm all for it. The surf community is always skeptical of the claim
that most celebratory act of triumphantly acknowledging your own performance, from your local beachbreak to a 'CT final. Take a look at the semi and final highlights video from the Quiksilver Gold Coast Pro. Those cheeky little monkeys! I haven't seen that much fist pumping in a while (and I live at the guido-infested Jersey Shore!)
But if there ever were a time for fist pumping, it was during yesterday's main event. In the semis Parko faced off against Mick in a classic battle of the Coolie kids and Adriano de Souza axed Aussi fav, Taj Burrow. That holy grail of surf breaks, Kirra, was serving up big dirty tubes with a side of vegemite thanks to Tropical Cyclone Hamish, for a thrilling kick off to the 2009 ASP Season.
Parko deserved to claim. The guy backdoored more barrels yesterday than he did on his quest for the Triple Crown, winning his first event since France in 2006.
"I was thinking it has been a long time between drinks [ASP World Tour event wins]," Parkinson said. "Until the hooter blew, I didn't know what emotion to feel. It's the kind of thing where you're surrounded by a lot of people and it's not until you pull yourself back and you're together with family and friends, that's really when you feel all of your emotions. Right now I'm on a high and I'm buzzing, it will be a few hours to let it all sink in."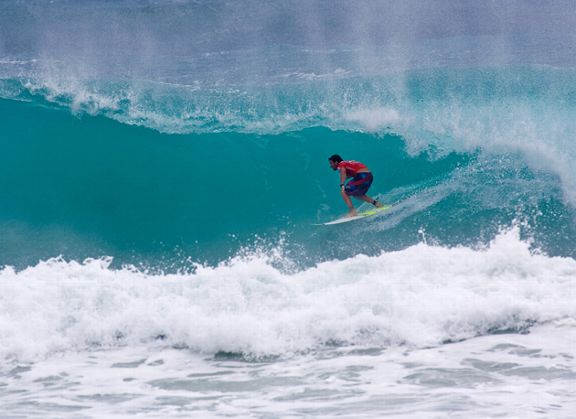 De Souza's top wave of he semi was a quick barrel to several bashes, intertwined with a dozen cut backs and hacks (two arms spastically going at once.)
Parko notched a perfect 10 against Mick to advance (warranting two pumps and a fist shake.)
Mick answered with his own barrel (double arm raise.)
In the final, he fired off the bottom and inserted himself through a man-eater, emerging miraculously on the other side to do a floater to buckled board. He signaled for a new board, and was in the line up shortly after. His next score, he basically popped up already in the barrel, threading it through three frothy sections.
Then came the well-earned claim. On this one he raised a single fist, and then while facing the judges (he's going frontside, mind you) he gave two open hands — perhaps indicating 10 fingers? Perfect 10. What the hell would they have given him had he landed that dope alley oop air?
Any way you look at it, this was an exciting day, with the raucous Aussies (they're usually so reserved) going apey for the hometown boy, despite the wind and rain. It was the best surf of the contest. And imperfect heaving barrels are, by far, my favorite conditions to watch a contest in.
"I just got energized when I heard the score and everyone on the beach really pumped me up. The crowd is awesome," said Parko, "There are so many people. Down here you don't really see it, but from the water you can see the crowd on the hill and all along Coolangatta and even down Kirra Point. I could hear them roaring — it was amazing."
Now, I've said before, I'm not much of an odds maker. But back a month ago, (Slater Commits, February 16th) I did write, "I feel that Parko's going to be in that No. 1 or 2 spot by the time we reach that Euro leg."
So right about the time Parko was claiming it, so was I, minus the four thousand Aussies rooting me on. It was a stab in the dark really, but the man does look impressive at the moment.