The last time out in this column, we spoke with Chris Harrison at Federal Bikes, and he mentioned the possibility of frames almost becoming disposable, like
skateboard decks
. Agreed, that's not going to happen in a hurry, and while there are people in the BMX industry with the caliber of
Sunday
Bike's Jim Cielencki, it's safe to say that the technical level of BMX frames will be forever pushed to new and more innovative heights. But on one hand, getting technical and speaking about engineering can often come across as geeky and nerdy and missing the point that riding a BMX is a simple joy. However, Sunday Bikes is more than just a technical exercise in bicycle frame design. They have a team that is widely respected (c'mon,
Aaron Ross
? Aside from riding bikes so bright they make your TV go all funny colours, Aaron is almost inhumanely good without being a textbook robot… and
Ian Schwartz
? The guy does tricks backwards as comfortably as he goes forwards), and Sunday has to be one of the finer companies from a graphic design and aesthetics standpoint as well.
But this article is more than merely talking about colourways. We need to delve into more interesting topics than that, to go beneath the stickers and retail price. So, I asked Jim Cielencki about the start of Sunday, about how he tackles frame design, riding 45pound complete bikes and downtubes with waves in them.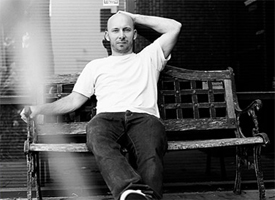 I remember first coming across Sunday, what, Interbike three, four years ago now? How long has it been exactly?
Hmm, that was four Interbikes ago, so about three and a half years have gone by. Sunday Bikes was announced on April 1, 2005. The funny thing was that I announced that I had left Kink and started Sunday on April Fools Day, so no one believed it. I had to sort of keep reiterating it just so people would believe me. I guess in hindsight it would've gone smoother if I had done the announcement on April 2nd. To be honest though, Sunday started during Christmas of 2004. I spoke with Odyssey about the idea and they were into supporting me with it. It wasn't until February that I told Zack [Phillips] at Kink that I was leaving. It was cool because I still remained connected with them because they're a Sunday distributor. We've worked together for years, their distribution company was doing well, so it was natural that I just have them do distribution. We delayed the announcement so they could sell most of their stock on my old Kink frames, I wanted to leave them in a good position. It worked out well I think. When Tim [March] and I were doing our usual media rounds at that show, getting to know the layout so to speak, we saw the first Sunday products and immediately picked up on the hollow dropouts. This detail alone said to me that Sunday was going to be way different. Is that what you wanted?
Oh yeah easily! I think out of everything I've done, most of it has been way different and for the most part unique. So I'd want the same thing for Sunday. I was never interested in having a stock frame made in Taiwan. There have always been ideas to improve the frame's durability and performance, but it's been limited by manufacturers and lack of inspiration of others. My main goal with Sunday was to make products that were completely functional and progressive while balancing that with an interesting aesthetic. From the outset, it does seem that your frames are more tech than the average. How has that come about?
Well, it's a really unique combination of timing, talent and experience. Every person involved along the way has added so much to Sunday. Chris and Ben helping me with the designs and drawings, Richard from Odyssey being progressive and forward thinking believed in the company and trusted me to really create an amazing and unique product, Jim Bauer using his graphic design talents to interpret my ideas for Sunday so it can have a really unique look. Then you add George French's insight to the mix and you know you'll get something far beyond the everyday products. My team riders have been an inspiration and they always have something good to contribute too. It's the combination of these pieces plus my experience, direction and passion that allows me to make Sunday what it is. So did you basically see a gap in the market for a more technically advanced frame?
No idea, I wasn't trying to fill a niche or gap in the market, I wasn't really guided by what other companies were doing. We all just knew that we had all these ideas that could make riding better. All this was done because there's passion for bike riding, we just wanted to see it progress at a faster pace. My main goal is just to make a fully functional and progressive product for the rider's needs. It had to be strong, light and reliable at the same time. One other guiding principle is that I wanted to make a frame that would last and not be disposable. I still remember how much stuff costs. I know our products are on the higher end, but you won't have to buy another one for a long time. Sunday is worth the money.


I wasn't trying to fill a niche or gap in the market, I wasn't really guided by what other companies were doing. We all just knew that we had all these ideas that could make riding better.
--Jim Cielencki


For sure. So, tell us, how are those hollow dropouts made then? And, what made you do them?
Hmmm, the concept is really simple, but I'd rather just keep it quiet. The manufacturing is pretty labor intensive, which adds to the cost, but the end product is worth it. As light as 5mm solid dropout, but well over twice as strong, and with built-in tensioners. I guess you could just buy a frame and cut up the dropout? Either way at least we would sell one more frame. Haha! I'll have to get my angle grinder out soon. But joking aside, it's obvious that these frames aren't put together in an average bicycle welding shop. What about the technical features, one by one. First up, New Wave downtubes. Do we all get free Human League haircuts?
Haha! There's no need for wacky haircuts. We had introduced this tube with the first Wave frame in 2007, but we had planned to do the downtube on the first edition of the frame. It was still untested at the beginning, so I decided to go on without it at first. What ended up happening is Vinnie Sammon dented his downtube on his original Sunday frame really bad and the frame cracked. And just so everyone knows, when you dent a downtube the next thing to happen is the frame will crack. It will happen to all frames. At this point in time in BMX, frames are getting lighter and lighter, and one of the ways you can achieve this is by using a double-butted downtube which means you have thinner tube walls in the center with thicker ones on either ends. The thinner walls makes it easier to dent which then leads to a crack. Our idea to prevent this was to create some sort of shaped tube that would help drastically reduce denting and dent size. My goal was to prevent most dents without changing it too much aesthetically. You couldn't ovalize the tube because from the side it would look really large and out of proportion, plus this really doesn't solve the problem. So we added five waves to the underside of the downtube which ends up adding more structure to a tube that could be hit from multiple angles. This prevents dents from small to medium hits and ends up stiffening the whole frame. I'm pretty psyched with how it came out. When I look at a street frame without it, I tend to think that's it's sort of outdated.
Rustproof coatings?
Well, this one has been on all Sunday products since day one. I used the name Black Magic to describe the rustproof coating. The goal was to prevent weakening of the frame from rust on the inside, so the whole frame inside and out has the covering. Plus if you just get a frame with Black Magic only, you'll save some weight. Black Magic? Is that actually lightweight paint?
No, it's our rustproof coating! Sweet. Integrated chain adjusters?
This one is a result of the hollow dropout width which is 8mm. You couldn't really do this type of chain tensioner with a traditional 1/4 inch or 3/16 inch dropout. The 8mm width created enough room to allow the push-pin to sit in between the seat and chain stays. Most frames are designed to have the axle sit all the way forward at the front of the dropout, but the problem is that to change a flat you'll have to break the chain to get the wheel off. You can't run the axle all the way at the front of a Sunday dropout, you will have about 2-3mm of wiggle space using a normal 25-9 gear ratio. To prevent the wheel from moving forward and your chain coming loose, we created the tensioner to take up that wiggle space. So you have the best of both worlds, a tight chain and the ability to change a flat with ease. Post-welded bearing race machining?
Do you mean post-weld machining of the bottom bracket and headtube? Yeah.
Well, like a lot of companies we use a mid press-fit bottom bracket which is just a bearing pressed into a bottom bracket shell. What happens when you weld a frame together is that the formerly perfectly round bottom bracket shell distorts and ovalizes due to the heat that is generated. The mid bottom bracket bearing is still completely round, but now the bottom bracket shell is oval. It's like trying to put a square peg in a round whole except that it is almost close. It will still go in, but you will not simply be able to just 'press' the bearing in. It will take some effort to get it in. We actually created a separate frame jig just to machine the bottom bracket and headtube again after welding so that they both are perfectly round. A Director style wishbone?
This is an improvement on the traditional wishbone. The welded on cap for the wishbone is actually part of the strength, it's not just a cover for cosmetic reasons. A crack can develop when the weld is grinded smooth, if you go too far. We moved the weld and made it a line as opposed to a circle. The tube was ovalized with the wide part down which created better side to side strength. This makes the new wishbone tremendously strong and slims the look of it too.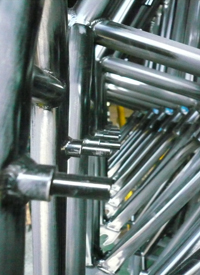 41-Thermal. I know various other frame builders give their heat-treating processes wacky names, but what makes 41-Thermal different?
This one is simple. The reason why ours is different is that we've had over ten years of experience perfecting our heat-treating process while others have been doing it for three to five years tops. One thing that is important for people to understand is that heat-treating is not just as simple as 'setting the temperature' and placing it in the oven. There is a distinct recipe that is being followed from beginning to end, and Odyssey has continued to evolve and perfect this over the years. The 41-Thermal parts that they're making in 2009 are using more advanced manufacturing processes and procedures than the 41-Thermal parts that were made in 1999. I know that they added a new step to the process just last year and it makes a significant difference. We lab test all our heat-treated products to refine and refine again, so the performance of our designs can be maximized. This decade of research, development, testing and refinement is really what sets it apart. Plus, we're also buying some new equipment this year that's going to help us a lot with product development. In the next installment, we continue our conversation with Jim and talk about the design specifics behind his Sunday frame, plus talk more about the cruiser phenomenon we touched upon when speaking with Jay Miron at MacNeil, and ask the question: just how light will frames get? That's coming up, in part two.
- Mark Noble