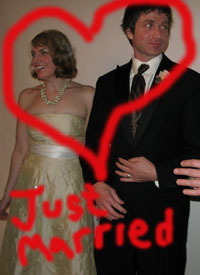 A quick congratulations to our ESPN Snowboard contrib Colin Whyte, who got himself hitched in Seattle this past weekend to longtime girlfriend and doctor-in-training, Liviya Thoreson.
The wedding was packed full of snowboarders, from photogs to filmers to fellow writers, and the minister even gave a shout out to those who couldn't make it because "they are too busy snowboarding."
We're stoked for Colin and Liviya, who by now are sipping champagne at the Place de la Concorde in Paris on their honeymoon.
If you've been under a rock for, like, the last decade or so, and have yet to read any of Colin's work, you might want to start with his most recent ESPN feature on big mountain rider Jeremy Jones. Good stuff, mang.