In 2003, Finland's Martti Kuoppa and Spain's Jorgelviki Gomez joined forces to create KGB (Kuoppa Gomez Bikes.) According to Martti, "Basically I just got sick of arrogant people and started doing my own thing with my friend Viki... The strongest point that we want to change with this company is the image of flatland to people who don't understand flatland." Prior to the new brand, Kuoppa had been through the ringer with a variety of sponsors (including Chiquita bananas) and wanted instead to go his own way. As for Viki, he had previously been riding for Fly Bikes, but the new collaboration seemed like a better fit for both riders. Frustrated with the status quo in flatland and the BMX world at large, the duo seemed hellbent on going their own way, with the company, the riding and the face of flatland to come. Safe to say, KGB, along with both Martti and Viki's riding, was unlike anything anyone had seen before.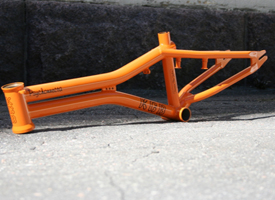 To begin, KGB's designs were drastically different from the traditional double diamond frame design. KGB's first frame, the Psychonnecta, featured an angled down top tube and angled up down tube, creating more room for both jump-over switches and switch-footed tricks. According to Viki, "
This frame is taking KGB to another level of riding, the level that make KGB the best team in the world.
" They eventually followed with more frames, bars and forks which sidestepped traditional designs and allowed for their riding to move into new territories, which, it did in a very big way.
I guess the easy way to explain the sea change in flatland is that there was flatland before KGB, and there was flatland after KGB. There's similarities between the two eras, only the latter era turned flatland on its head, with faster combinations, more intricate positioning and more of a circular, self-propelled direction. I would go into more details explaining the intricacies of the new tricks that developed as a result of Martti and Viki's new direction, but it wouldn't really translate outside of the flatland world. Instead I'll take the easy route and say that Martti and Viki's riding is like flatland on a naturally-developed form of the drug speed. Much of it is hard to comprehend, much of it takes months to perfect and much of it is only done once or twice for the camera. As a flatlander myself, I can only say that these guys possess some of the most serious dedication on a bike I've ever seen.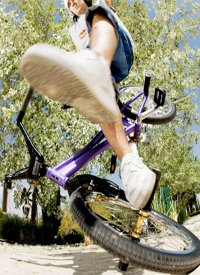 But the riding isn't the only thing that changed following the birth of KGB. Traditional flatland comps changed as well. Whereas before, you got a few runs that were timed and judged at the end by a panel of judges, now flatland is more of a battle-like competition, much like break dancing I'm told, even though I've never seen a break dance competition and I don't remember Breakin'. And these guys took the new formatting very, very serious. Says Viki, "A real contest was the Circle of Balance. Face to face only Martti can beat me. Face to face, if I pull my original tricks all the people can see who is the rat!" That the duo handled themselves like gangsta rappers battling each other only added to the intrigue. I mean, I know they're nice guys that can smile and have fun together, but when the battle is upon them, they're deathly serious about it. I'm not ripping on them either. That they can take something so personal and artistic as flatland and apply it to a dramatic and competitive atmosphere is something else really. Something that not too many people in the world can successfully navigate through.
KGB has been going for a few years now, and the duo is still pounding the pavement they paved themselves. Most recently, with a video collaboration that brings Intrikat's Chad Johnston together with the KGB team. The result is their latest full-length release, Impulsivity. And the riding is hard for even some hardened flatlanders to comprehend. But it is all truly groundbreaking. Most of the impossible footage contained within seems to be self-filmed on a tripod, but that might be the only shortcoming of the video (and given that some links take hours to pull, it's pretty standard in concentric flatland these days anyway.) Broken up into chapters that are both solo and duo, with guest appearances from riders such as Pete Brandt, Impulsivity is raw, hardcore post-flatland at its best. And that's not just due to the riding. Editor Chad Johnston does an awesome job at capturing the rawness of this riding and doesn't sugar coat the video with over-editing, which has always been one of Chad's strong points (aside from his own progressive riding.) Chad understands that the motive behind flatland videos is to capture progression, and for almost TWENTY years now, his videos have done just that. Overall, it's a very awesome video. Even if you don't understand flatland, don't like the way the frames look or hate tripod shots, you're going to put all those prejudices aside and truly appreciate the long, difficult path that KGB is blazing on their own.
- Brian Tunney

References: Martti Kuoppa, Viki Gomez, www.agoride.com, April 2003, September 2003