"This stuff isn't designed to scare you."—Jim "Sarge" Conway, TGR guide
In a room crammed with the very people he's most likely to share ridgetops with, one of the best-respected—and generally mellow—athletes in the big mountain world is talking about safety.
"I'll fight a guy on a ridgetop," he says, naming names about past stupid decisions and people he will never ride with again. "I don't want somebody getting hurt. And now the people we ride with make good calls.
"Because you go out as a group and you come back as a group. And, if not, we all wear that."
Getting right to the meat of real-life decision-making scenarios in the mountains, fighting words and all, was the point of this gathering in the first place. These people—36 athletes, producers, photographers, cinematographers and office staff of Teton Gravity Research—make these kinds of calls all the time. But this was the first time they'd gathered specifically to zoom in on safety instead of, say, just skiing. Held before Christmas at Grand Targhee, the intensive (and mandatory) three-day International Pro Rider Workshop is also thought to be the first such safety meeting of its kind in the ski film industry.
"Getting this feedback was essential because every person in the room has encountered situations unique to their local filming zones, past trips or past accidents and injuries," explains Josh Nielsen, TGR's supervising producer. "So a general safety plan was not an acceptable option. We considered it critical to get athletes, cines and still photographers involved in producing the finished Standard Operating Procedure."
To that end, the workshop included avalanche school, inside and out, medical training and all sorts of detailed behind-scenes minutiae that come into play in making a 20- or 30-second clip of sickness happen, and happen safely. At one point, Todd Jones, founder and one of the behind-the-scenes engines of TGR, draws sarcastic laughter by summing up safety this way: "Don't do it if you're not ready. We love not getting shots."


People call B.S.—whoompfing everywhere—and it goes back and forth in a spirited discussion. Jones doesn't back down. "We value good decision-making over getting the shot," he continues. "If you need time—stop. If it's not the day—stop. We'll wait all winter for when it all comes together right. ... Sometimes, pointing it to the run out isn't the best answer. Sometimes, just stop. Kill the shot. That's the safest choice."
Then Corey "CG" Gavitt, another TGR founder and engine, dropped in on the discussion with this: "The greatest big mountain riders in their disciplines got themselves here for this and they've paid their 100 bucks too and they're here to learn too. Learn from that."
Each night's programming featured something unique: a series called Defend My Line, where riders like Sage Cattabriga-Alosa, Jeremy Jones, Jeremy Nobis and Erik Roner stood up in front of a video monitor to share, discuss and in some cases defend their own TGR highlight—and lowlight—reel situations. What went wrong. What went right. What was I thinking? What's the takeaway?
This post is the first in a series chronicling the International Pro Rider Workshop, and the only fitting beginning, footagewise, is with Sage's now-famous "Hotel Room" line. Dig the video (two helicopter angles plus helmet cam) and some of the discussion it sparked.
HOTEL ROOM, Sage Cattabriga-Alosa
SAGE: "It's been cool to watch all this go down and think about all these lines..."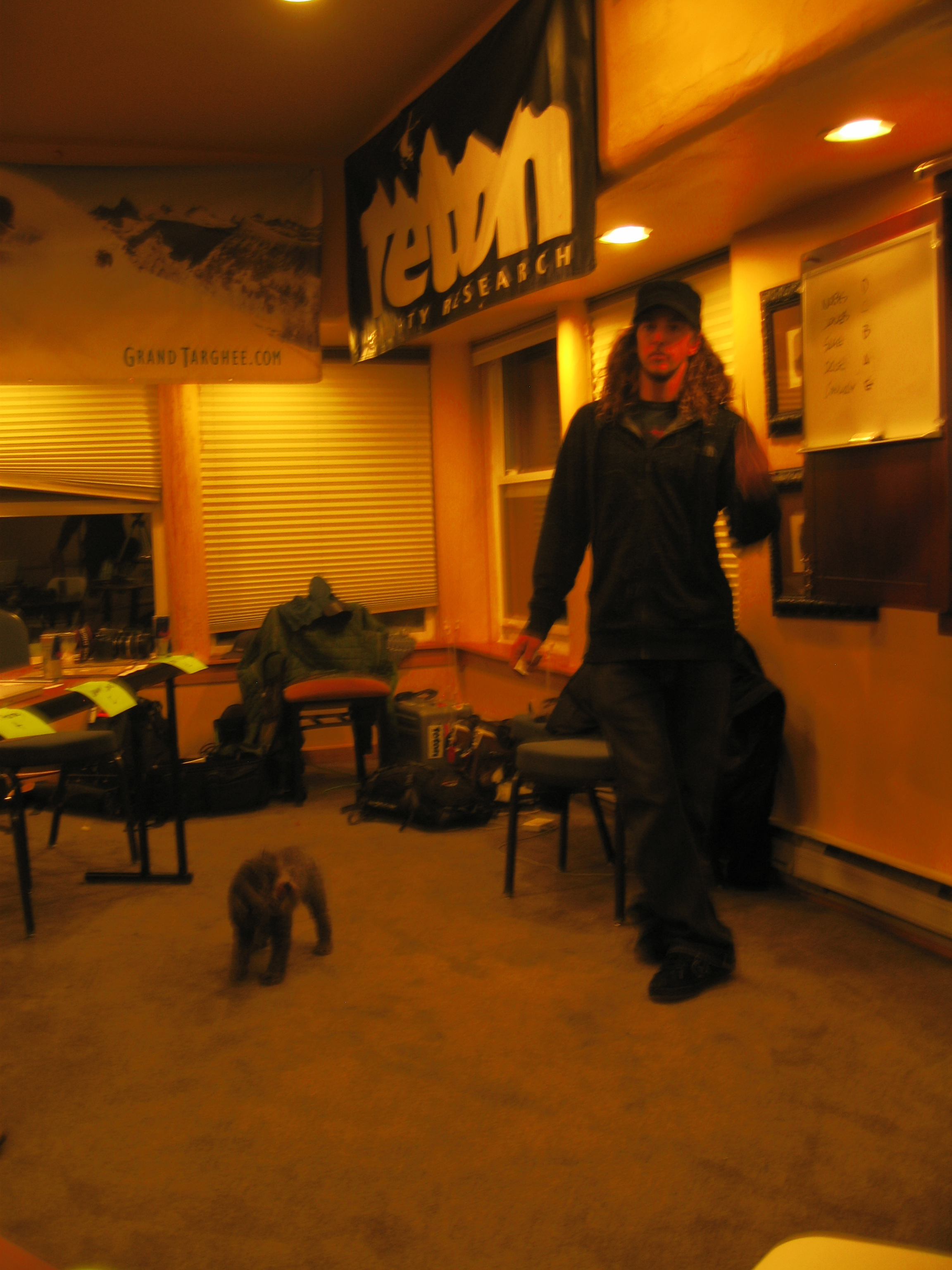 J. JONES: "This is one of the scariest lines I've ever ridden and I couldn't believe it when Sage told me how he did it. It's weird. The whole visualization thing that Nobis has been talking about, it helps so much. You build your confidence up because mentally you've already put yourself there. I was having nervous shakes in a hotel room thinking about this one beforehand..."
DASH LONGE: "How do you decipher where you are and where you're going?"
J. JONES: "If you want to learn to ride spines, traverse moguls at high speeds." [Laughter]
SAGE: "I felt like I'd been training for a long time to be in this position. And Jer's always like, 'If you can start at the top, start at the top.' So after looking down and around a bit, I hiked back up. Sometimes you get to the top and you can see everything you need to—like, 'Yeah, we're partying here.' But other times you've got to look for clues, markers, things on the ridge, things you can see, in order to find your way."
SAGE: "[Hotel Room] has seen three total descents, I think. Jer [Jones] two or three years ago, and then Seth and I did it last April; all three by a different variation. Jer and I did almost the same line, a slight variation on the exact path, but it was a different year and the snow was different. Seth went skier's right, down basically the edge."
SAGE: "It's definitely one of the gems of my career, one of the trophies, for sure. And one of the more difficult too, both mentally with the picking apart of just how to try and do it, and also as far as the exposure level. There haven't been many situations like that. And with this one in particular, it seems like the attitude most people on the outside would have is, 'Oh, not smart decision-making got that done.' But of course that's why we're here talking about: It was a huge process in getting it done, and maybe I didn't exactly know it, but I'd been building up to it my whole life really."