Yesterday I made mention that we'd be talking about Australia more and more in the coming weeks and months. And while I tried to ready you for it with stupid YouTube clips, Gabe Kling's taken the impending migration considerably more serious. For the past two weeks he's been in California training, getting his boards ready, and tying up any loose ends before jumping continents. After a brief hiatus last season, Gabe's back on tour this year, and as you can see by the collection of photos so generously submitted by Ryan Miller, he's more prepared than he's ever been. Stay tuned as we follow the trials and tribulations of Gabe, the Hobgoods, and every other true, blue American on tour this year.
As of late, Aussie transplant (and legend in his own right) Ian Cairns has taken a number of aspiring surfers under his knowledgeable wing and offered them heaps of constructive analysis. The waves weren't great while Gabe was in California, but they were punchy enough to go down to Salt Creek for a couple sessions and get the technique fine-tuned by Ian. By the looks of things he's good and ready for the beachbreaks...this turn's gonna go good at D-Bah, that's for sure.
Ask anybody on tour and they'll tell you having the right equipment under your feet is key, not only in how they perform in the water, but what they do psychologically. A good quiver is a huge mental advantage. As you saw last week, Damien Hobgood and Timmy Reyes are well aware of this fact and have been frequenting
Timmy Patterson's board works
in San Clemente. Not one to be left behind, Gabe got on the same program when he was in California and spent some time really fine tuning, and dialing in his boards for the Gold Coast. Notice the note to the glasser that's taped to the board, it says "Rush!" I bet the last board you ordered—you know, the one that took six months to get—didn't have a note like that.
It's pretty much bullshit when somebody says the best way to stay in shape for surfing is by surfing...especially on the East Coast and in California. When it goes flat for a week or two, or there or four, the last thing a guy about to jump back on tour wants to do is lose his fitness level, which is why sometimes you have to get on the bike, or dare I say, even pull out the stand-up paddle board. Either way, it's a good way to kill a few hours and keep the body loose.
After surveying the dorky tourists, awkard, artsy gay dudes, and handful of metro volleyballers, all I can think of is that Gabe, not more than 50 yards offshore, is looking back into the heart of Laguna and thinking, "I'm not in Florida anymore."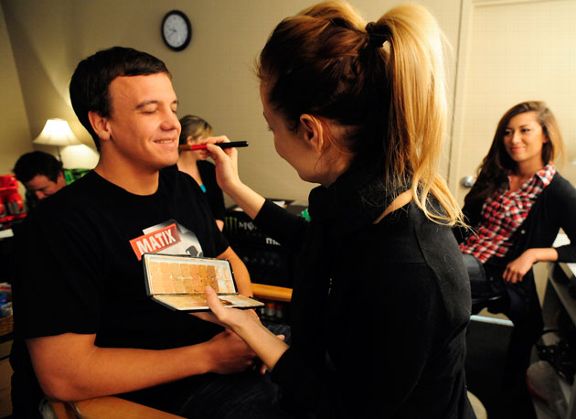 God, the multitude of captions one could write about this photo! I guess let me just leave it with that chick in the background, does she or does she not have dollar signs in them eyes? Backstage in hair and makeup for a taping of the Daily Habit on Fuel TV.
Florida has swamps, which is great for fan-boat rides or wrestling gators when it's flat, but California has mountains, and depending on traffic, in an hour or two from Huntington you can be schralpin' the gnar pow. Gabe beat the flatness one day at Mountain High, and while the amplitude may not be Shaun White worthy, it sure as hell beats a fan-boat in a Florida swamp.
For most any pro surfer part of the California circuit includes the obligatory stop at the magazine offices. Here's Gabe at Surfing Magazine HQ with assistant photo editor Jimmy Wilson, and Golden State homegrowns Micah Byrne and Tanner Gudauskas. You would think they're planning a trip to their next far-flung destination when in fact they're probably just figuring out the best place to get a burrito.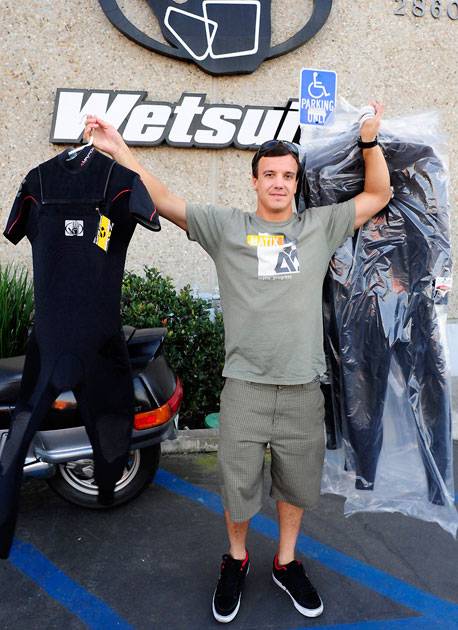 Insert any joke about Gabe on the road and rubbers here.
Seriously though, Gabe picking up his new wears from
Body Glove
. It may be a lot to lug around three or four different suits, but seeing as in the next couple of months he'll be bouncing all over the land of kangaroos, where the water can fluctuate from warm and tropical to downright freezing, better to be prepared. Gabe's just recently inked up with Body Glove, and is amped on the suits...he reports they've been keeping him warm in California, which is a good sign.
As focused as he may be, a man's gotta get out sometime. Last week he took in the AMA Supercross Race in Anaheim and got to spend some quality time back in the pits with DVS rider Kevin Windham.