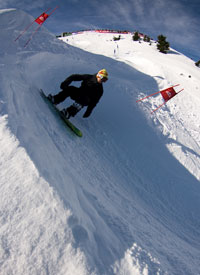 The word 'variable' has been thrown around a lot this season. From variable snow conditions to variable success in the marketplace, '08-'09 has, so far, been a series of ups and downs for most in the snowboard industry. It may come as no surprise, then, that 'variable' best sums up this past weekend's Legendary Banked Slalom at Mt. Baker, Wash.


In its 24th year, the Banked Slalom should be a familiar scene to snowboarders worldwide. If you haven't heard of it, the idea is simple: stay on edge and post the fastest time down a tight series of gates set high up the banks of the natural halfpipe, rider's right of Chair 5. Attracting an international field ranging from jib kids to Olympic racers, industry types, and local shreds, it's all on the line for nothing more than duct tape glory and a sweet embroidered Carhartt jacket—or, as race organizer and emcee Gwyn Howat puts it, "culture before cash."


But back to those variables. With low snow, the ditch looked particularly intimidating this year: the banks were steeper and higher than they have been in years, twigs poked through a few of the mid-course berms, and thaw-freeze conditions meant those pulling an early start number were dealing with frozen ruts and ice chunkies the size of footballs. A period of heavy snow and whiteout conditions on Friday saw the first half of the field, myself included, trying to stay low—not only to keep our edges engaged, but also just to see below the white haze hanging over the course. It was handy to have a shammy on your glove to clear moisture and maintain a clear line of sight throughout the minute-and-a-half-long run lined with berms.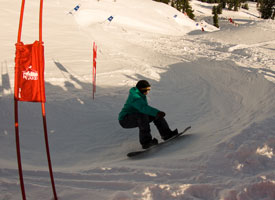 The falling snow also made some of the steeper lines on Baker look appealing for the first time in a few weeks, and the ride up Chair 5 to the start area became a little more entertaining as snow-starved riders hucked to 3 inches on crust. Then the skies broke. Sun warmed the crowd and held through Saturday, sending a trail of pilgrims up Shuksan Arm and Hemispheres to get the goods between pulls down the course.
As clouds moved back in on Sunday, those talented enough to make the finals took their two runs while the mass of spectators and underachievers (myself included) poked around the mountain looking to milk a few more slashes out of the sparse snowfall. And, like years past, everyone seemed to be smiling regardless of their times or their turns. Indeed, in a year of erratic weather and sketchy markets, the 24th Legendary Banked Slalom pulled together all ends of shred culture and confirmed one thing: as long as there is snow and the company of like-minded individuals—and events like the Banked Slalom to bring us all together—the snowboard world is in good shape ... all variables considered.


Winners
Pro Men: Nate Holland
Pro Women: Maelle Ricker
Pro Masters: Ludovic Strohl
Masters: Marcel Dolak
Women Masters: Weeg Simmons
Mid Masters: Dave Wray
Grand Masters: Jim "JT" Taylor
Women Amateurs: Danielle Davis
Older Amateurs: Craig Newbury
Younger Amateurs: Logan Beaulieu
Juniors: Gus Warbington
Next Generation: Hank Kennedy
For complete results, visit
Mt. Baker's website
.