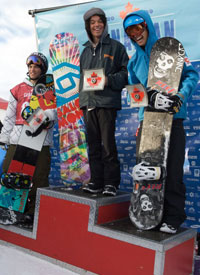 Last season the inaugural Burton Canadian Open was cancelled. It had been scheduled for the first week of December, but Mother Nature acted up and her warm and soupy conditions weren't going to cut it for a debut Open event. Organizers pulled out.
So this year, a lot was riding. They pushed it back to February, and it worked. At least, the weather held. Problem is, February is a tough time to get contest riders to come through Calgary, so several of the usual suspects went missing from the event, making it less than headline material for many.
But with a B-List pipe lineup, the first place spot broke wide open and it was Calgary local Jed Anderson who took the surprise victory for the men with, most notably, a super fresh frontside three crail. Relatively unknown 16-year-old Palmer Taylor stepped into her biggest career win, taking the women's halfpipe.
On the slopestyle side, Mikkel Bang stopped in from New York after competing in the Red Bull Snowscrapers, and brought his newly learned switch backside 1260. That, along with some of the best style currently going, was all the 6'2" Norwegian needed to move past Canadians Seb Touts and Charles Reid.
Results
Halfpipe: Men's Final:
1. Jed Anderson CAN Salomon 94.67
Anderson's winning run: Frontside 720 to switch frontside 720, into a frontside 360 crail, followed by a switch frontside 900, finishing with a switch backside 720. "I've been riding here [at COP] my whole life", said Jed. "I don't even usually ride halfpipe, I wasn't a very likely candidate in the field, it was super surprising that I won."

2. Justin Lamoureux CAN Whistler 92.67
3. Jeff Batchelor CAN Burton 87.00

Women's Final:
1. Palmer Taylor CAN Burton 82.83
2. Sarah Conrad CAN Ride 80.33
3. Lisa Wiik NOR Roxy 73.33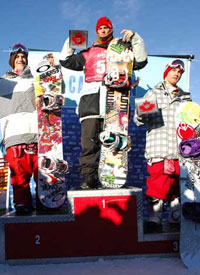 Slopestyle:
Men's Final:
1. Mikkel Bang NOR Burton 91.50
Mikkel Bang's $7,500 winning run featured a frontside nosepress on the flatdown, 270 to frontside boardslide on the street rail, a backside rodeo stalefish on the first kicker, and landing a ridiculously big switch backside 1260. "I feel really good," said Bang. "This contest was really mellow compared to others that I have been in lately. But the level of snowboarding was crazier than usual. I felt like I had nothing to lose after not landing my first two runs so I went for it. I am so stoked."

2. Sebastien Toutant CAN O`Neill 87.83
3. Charles Reid CAN Burton 83.83

Women's Final:
1. Silvia Mittermueller GER Oakley 78.50
2. Megan Ginter USA Ride 77.83
3. Mary Sallah USA Flow 73.17