With the Super Bowl in our rearview mirror, and the West Coast forecast calling for plenty of precipitation (which also means plenty of urban runoff), you might be looking for something to help kill a little time over the next few days. Below are a few suggestions:
1. See Hitler's Surf Trip Ruined
Be it Lenny Bruce or the Blues Brothers, over the years Adolf Hitler and his Nazi contingent have served as a good source for comedic inspiration, and now the lads down at Australian Surfing Life are jumping onboard the laugh track. Click here to see Hitler's surf trip spoiled by his flakey shaper.
2. Let Google Earth Take You Below The Surface
The brainiacs at Google Earth have just announced you will now be able to check out the what lies on the seafloor thanks to their new app, Google Ocean. This new feature will allow you to study the bottom of the ocean (known as bathymetry by all you oceanographer geeks), which means now you'll be able to better understand the influences of deep-water canyons, dramatic changes in depth, and the novelty known as refraction.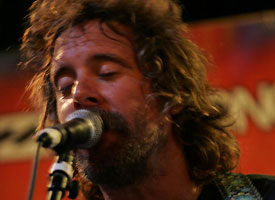 3. Grow a Mustache and Go See Donavon
Bet you never thought you'd saw a post featuring both Hitler and Donavon? Well, the mustachioed virtuoso is touring up and down the Golden State over then next couple of weeks, so let your inner freak flag fly and get down to one of his shows.
4. Get the Hell Out Of Dodge
It's dumping up in the mountains, pumping in Hawaii, and the dice are hot in Vegas. If you have the financial means, either fill up the gas tank or throw down on an airplane ticket, beat feet, and change your surroundings.
5. Don't Forget Valentines Day
I know, I know, this is pretty sappy, but if there's that special someone in your life it's never too early to go pick out a diamond pendant or get the florist assembling the bouquet to end all bouquets. V-Day ain't until February 14th, but if you plan ahead now you may just be able to sneak a surf in later when the waves get better.