With the start of the 2009 World Tour looming, CJ and Damien Hobgood have busied themselves with the business of getting ready for when that first horn sounds. Coach/shaper/guru Chris Gallagher has signed on for another year on the road with the boys, and in a few day's time they'll all be setting out together. This is the first, albeit brief, installment from the brothers Hobgood as they span the world, striving for competitive glory, global domination, and maybe a few good waves too. Comeback soon for more.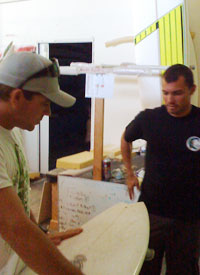 CJ:
My brother's out with Chris Gally in Cali. They're training, trying to surf, psyche up, the whole bit. I think they were working with the Gudauskas boys and Timmy Reyes. I know they were shaping some boards, basically just getting ready for Australia.
Damien: In California right now, but it's flat. Today I went up with Gally to work on some boards. He cut and shaped some boards at Timmy Patterson's factory. We were working with that INT foam. We saw Timmy Reyes while we were there, and started to make a plan for later in the week. Looks like finally some waves coming, and we're trying to figure out where we should go surf. Until then we're just gearing up.
Check out TheGoodss.com for more from CJ and Damien.