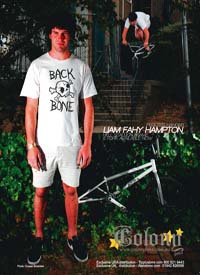 Australia's preeminent BMX brand,
Colony
BMX, announced plans earlier this week regarding the restructuring of the company. Originally owned by Clint Millar and Chris Harrison, Millar announced that Harrison had left Colony, leaving himself as the sole owner of the company. In addition, Colony BMX is no longer distributed by Triplesix Distribution in Australia. Millar will also be taking charge of Colony's distribution, which he plans to do on his own from Brisbane, Australia. No formal name has been announced for Millar's distribution, but the switch is effective immediately. Says Millar: "For all the stores in Australia, you will need to contact me directly for your Colony needs and I will be in contact with those shops that had orders in place with Triplesix for 2009 products very soon. So for any store that wishes to continue stocking Colony or would like to start, please contact me. This also means that for any warranty issues please contact me directly and not Triplesix Distributions. I will take care of any issues that may arise with our products as I totally stand behind them."
But that's not all; Colony has a new art director. Effective immediately, Cooper Brownlee of Focalpoint BMX is responsible for the all things graphic from Colony. And his first ad, featuring Liam Fahy-Hampton, looks pretty darn good.
So what does this mean for all of us? Well, unless you live in Australia and are politically embedded in BMX distribution house politics, nothing. It's simply just a few behind the scenes changes for Colony that will, in the words of Clint Millar, "move Colony in the right direction." And if the current momentum behind Colony's full line of completes, frames, forks, bars, components and poker sets is any indication, then expect to see a lot more of Colony's right direction in the near future. (If you don't see it coming, Clint Millar might no-foot nosepick your forehead....) - Brian Tunney
xgames.com