Paul Thacker wrecked this morning and he's out—"My day is done," he said. And Freestyle alternate Isaac Sherbine went to the hospital after a wreck on his own.

So, yeah, there's a nervous, uneasy energy at the Freestyle venue this morning as the dial of the carnage meter begins to flicker.

Thacker's sled bogged on him on a take-off and he had to ditch the sled in mid-air. He came down on top of the sled but was able to walk away. "Surprised I didn't break bones," Thacker said, saying still he was disappointed to be dropping out. Sherbine, the newest rider on the Heath Frisby talent development team, went to the hospital after his sled bogged on a take-off too. He back-sided into the landing. According to pit buzz, he's getting X-rays for a suspected ankle/heel injury.

"There's a reason all the wrecks have been today," said Sebastian Landry.

"Yeah," Giles Landry added, "People are f**ing nervous."

"Racers are used to game days like this," Sebastian said.

"But these guys aren't," said Giles. "And it's freaking 'em out."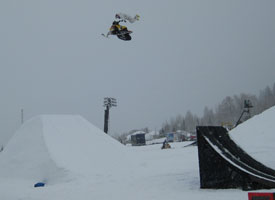 Justin Hoyer had a near-miss too, shorting the landing off the BAR ramp. "He hit so hard that his seat came off," Giles said.

Though it's unofficial at this time, with Thacker saying he's out and alternates Sherbine and Teddy Culbertson apparently unavailable (Culbertson reportedly re-aggravated his knee on a hard landing this morning), it would seem that Jimmy Blaze willbe in for the Freestyle contest.

Meanwhile, today's practice session saw some dead bodies to no hand-landers by Heath Frisby and a few super-ish flips by Levi LaVallee. "He's got a seat-grab flip that we haven't seen yet too," said one observer.

*UPDATE* Rumor has it Isaac Sherbine is back from the hospital and feeling good. He may be in the Final after all!