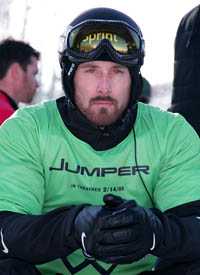 Thursday I posted the
first part
of my conversation with SnowboarderX podium fave Seth Wescott, divided in two (I have a daily quota, people). Below is Part Deux, filled with some friendly smack talk.
How much do Friday's time trials matter in terms of the eventual result? Lane pick can be a pretty big deal, right?
Lane pick is huge. It always is. This one's a pretty fair start, so lane pick will matter less here than typically, but it still matters because a good lane helps you get to the line you want without extra movements. If you can just pin it straight the whole way in to where you want to be, you're going to be the fastest one. So that's definitely important.

Other than that, you never really get any feedback through the practice days other than knowing your lines and the right places to be of how fast it really is. With the seeding, you get to see if you're riding faster than your teammates, or that you made a mistake in one spot or another that needs to be fixed before Saturday. It's the first test, the first thing that won't lie to you.

I asked Nate [Holland] earlier if there was someone who he could live with ruining his quest for the fourpeat without getting mad. The only name he came up with was his brother Pat. Are you prepared to get Nate ticked off?
Yeah. It was funny, because he definitely clicked into a different mode when he got here yesterday, but truth be told he hasn't been riding that well this year. He's been qualifying back a little further in the pack and going out in early rounds. It'll be interesting to see how this week works for him.

Is it hard to turn it on and turn it off? I know he's confident here.
I think it is. But it depends. I think he's maybe a little out of shape compared to where he's been other years, and that shows a bit in his riding that's happened so far this year. So we'll see. It's harder to ride this course when you're out of shape because there's more work to do and we're at a higher altitude than we've been all year. We'll see how ready he is once we hit the time trial.

Are you feeding him extra cheeseburgers?
No. We get along great- we're roommates- it's fine. We're all here to do the same thing. It gets tense at times because of that when people are up or down, but that's just part of the whole process of being part of a team and living together.

Who else should people be looking for?
I think Palm (Shaun Palmer) is going to ride well. He's super motivated, and had a week off, which was huge. We traveled 28,000 miles I think in the last two weeks with plane flights, and he got to be at home resting. That's going to help him. And Marcus Schairer, clearly. He's been on fire all year. He and I have been one, two, one, two, one, two in all the World Cup time trials. He was behind me when I won that World Cup in Arosa, he won Worlds last week. He's motivated, and getting second here last year, I think he's probably fired up to ride well, too.