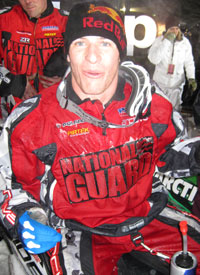 After nearly getting tipped over in a bunched up start of the Last Chance Qualifier tonight, Levi LaVallee picked his way up through the field to finish second and secure a berth in the SnoCross final tonight.
But LaVallee never managed to catch Ryan Simons—the LCQ winnner—and as a result was getting roosted with heavy wet snow through much of the eight lap LCQ. Sean Crapo, Bobby LePage and Paul Bauerly rounded out the top five, so they're also going to the final.
"It's so gnarly out there," said LaVallee. "The snow is so wet and sticky—it's like someone's taking a bucket of mud and throwing it at you every time you get roosted. My upper lip here, it feels like someone's been throwing rocks at. It's raw."
LaVallee didn't know if he had enough time to change into a dry suit. "I feel like someone just hosed me down with a hose," LaVallee said. "It's so wet and gnarly out there, but I don't know if I have time to change, but I'm going to try to. I am going to put some duct tape on my lip because it's getting a little raw. And then I'm just gonna go out and pin it. I gotta get a good hole shot so I don't have to mess with all that roost [in the final]."