Dan Ebert, last night's winner in Heat 1 SnoCross qualifying, only spun six laps around the track this afternoon in the final practice session before the LCQ and final tonight. That's because Ebert - in his third appearance at WX—has already surpassed his expectations for the weekend.

"It's pretty crazy that I won my heat last night," Ebert said today after calling his practice session early. "To be perfectly honest with you I never ever, ever would've dreamed it. My goal was just to make the final. This is my third year [at WX] and I've never made the final. I've been close, but just to make it, the weekend's a success regardless of how I finish now. I'm super stoked."

"X Games is so different from the normal circuit we run," Ebert added. "The jumps aren't nearly as big on the National circuit, and it's a lot rougher and it's a lot smaller. At X Games it's so big—so much big air—and the tracks are always awesome. X Games is just kind of the pinnacle— it's cool to be here."

According to unofficial lap times from practice, Tucker Hibbert was still the fastest guy on the track—with a best-lap time of 54.024 seconds. TJ Gulla posted the next fastest time (54.814) followed by Ryan Simons (55.673), Steve Taylor (56.208) and Ebert (56.485) rounding out the top five.

Ebert praised his crew for putting together a fast sled for him. "I just wanted to get a fresh feel for today, get loosened up again, and just make sure everything's dialed for tonight. I'm pretty sure my Arctic Cat's gonna be real good," he said.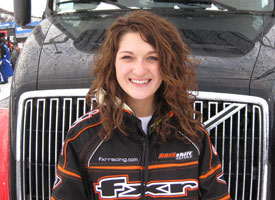 Ebert said wet snow conditions and intermittent rain shouldn't pose too many problems for racers. "We're used to it for sure, but it makes it tough when it's raining. The snow's always been soft and powdery when I've been out here before [at WX], so this is a lot different. The snow tends to stick to your goggles a lot more and makes visibility more of an issue. And you get a lot more feedback in your handlebars—with the skis grabbing more—so it makes you have to work on your suspension and dial it a little differently. I worked on my chassis with some different geometry, different A-frame angles, to get my sled to work for me a little better in these grabby conditions."

Carly Davis, younger sister of Speed & Style bronze medalist Cory Davis and a top racer on the women's pro SnoCross tour, was on hand during this afternoon's practice. Going forward, however, Davis said she would prefer being a WX competitor rather than a spectator.

"We're trying to get in touch with the right people to get a women's class started at X Games," she said. "But it's hard, and the biggest problem is—are there enough women to compete? I think we could do it though, and it's definitely been my dream to make it to X Games. I think it'll happen."