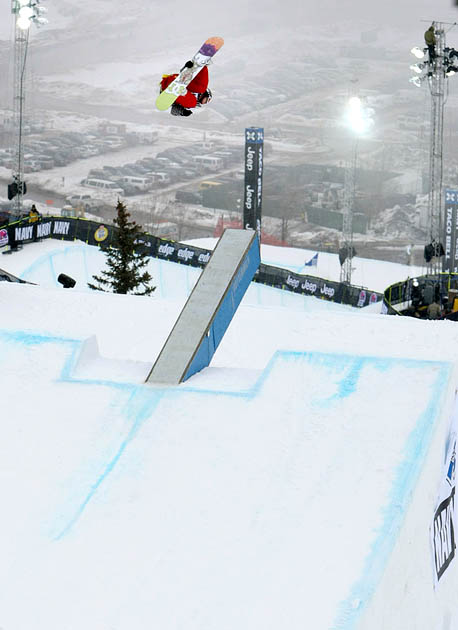 While other riders were struggling to string together a run yesterday at the slope prelims, Chas Guldemond came in and straight killed it. Not once but twice he scored higher than any rider. Just check his line: half-cab 5-0 on the down rail, gap to frontside blunt on the kinked rail, frontside 180 on the butter box, frontside 180 off, and then to the jumps: backside rodeo, cab 9 stale, frontside seven to backside 9. Solid on its own, but nothing short than brilliant considering the harsh conditions. Today is the final showdown, and weather is just as bad if not worse. If Chas can keep it up like he did yesterday, he just might be on his way to X Games Gold.
So how stoked are you that qualified first in the slope prelims?

Definitely a nice surprise for sure. I felt really good about landing both my runs yesterday, putting up some good scores, and hard work and consistency is starting to pay off for me. I was super stoked to come in and make it through the tough weather.

With such an talented field of riders competing in this year's slope event, it must feel good getting not just one but two runs that beat everyone?

Yeah, it feels really cool. Being first in front of all those other guys, it's quite an honor. I mean really, I don't think everyone was gunning for a win yesterday. I think the riders just wanted to do enough to make it into the finals. It's definitely good to be at the top spot, but I'm just glad to be in the finals.

You rode the course so well yesterday. What are your thoughts about the layout? A lot of riders have been talking about how tight it is--wondering if you feel the same?

The course is definitely tight. But on a good day, those jumps are really fun. It's fun for me to go and do practice, do my runs--I don't know, it's just really fun. Gunny did a great job on the course [Chris Gunnarson, head designer at Snow Park Technologies]. There's pretty much something for everybody.

What's your favorite feature?

Probably the first jump, it's just a regular jump but it puts you in the air just the way you want to be. I've had a lot of fun in practice the past two days, just doing some super slow spins over it.

So it looked like you were handling the main takeoff of the last jump when you doing practice runs doing big air warmups.

Yeah, hopefully I'll be able to have the speed to hit the center takeoff today. Definitely want to.

So this is actually your 12th contest this season?

Yeah, my 12th since summer. I've done every TTR and every Open so far.

And what's been your best result so far? I know you did good at the X-Trail jam in Japan.

Yeah, I got second there behind Shaun [White]. That was a cool contest. That's been my best so far this year. I've just been riding every contest--it's hard on my body, but you know I'm having fun doing the contests, being there and cheering on my friends. You know, some people don't like to do it, but you know it's something that I do like to do, so... You know, I'm going to keep doing them and try to just bring a good vibe to the whole contest thing.

Hell yeah. But I have to ask with all these contests are you still going to have time to film with Standard this year?

I'm going to give it my best shot. I've got my filmer coming in, and tomorrow morning I'm headed into the backcountry at 6 am.

Oh damn. Not wasting any time. Nice.

Oh yeah. Double whammy man. I'm the hardest working snowboarder in the industry.

Love it. So I heard this other rumor that for your first day, first run this season you hiked some gnarly couloir and just dropped in?

Yeah, first day of the year I dropped from 10,400 feet--it's one of the higher peaks in South Lake Tahoe. So yeah, I dropped this couloir and shredded the sh*t out of it. It was tight man, it brought me back to the reality of it all. I didn't have any filmers or cameras, it was just me and my buddies. It's important to just go out and do it for myself every once in and a while.

Rad. That's respect right there.

Hell yeah. And it was definitely a worthy line. I think Jeremy Jones went up to it four days later with like three filmers, and did the couloir next to it.

So what's it going to take pull the win here at X Games?

I'm not looking for a win, I'm just looking to land my run and do my personal best. That's the most important part for me. Well, actually the most important part for me is to just have a good time. I'm just enjoying being an X Games star for a couple of days. I'm living in a sick DC house, I'm eating good food, I'm getting treated like a king, it's ill.