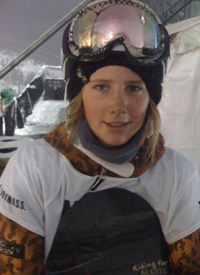 After qualifying fourth in the prelims--one spot ahead of veteran Gretchen Bleiler--17-year-old Ellery Hollingsworth is competing in her first X Games superpipe final tonight. I caught her during the last practice session to see how she's handling life in the big league, and how she plans to land on that podium.
Looks like the snow has let up a bit. How are you feeling about the conditions right now?
It's been snowy and foggy and rainy, but I don't know--right now the pipe is really good, so it's been working out. Hopefully the weather will hold up.
So what's your strategy tonight?
Uh...hopefully I'll just have a big run, the crowd will go crazy, and maybe I'll throw down a special trick.
Special trick? What's that?
I can't tell you. It's a secret surprise.
What about the 22-foot walls? How's the upgrade treating you?
I love it, this is the best pipe I've ever ridden. I was in Park City before this, and their pipe was massive--like the biggest pipe ever. So coming here it was a relief that it wasn't as big as Park City.
Wait, doesn't Park City have 22-foot walls as well?
Yeah, it does but...I don't know...it's just bigger. Everyone who was there and then came here said the same thing.
So this is your first pipe finals at X Games, right?
Yeah, last year was my first X Games and I took 7th in pipe, and they only take six for the finals. So this is my first one.
How does that feel?
It's so exciting! I got to ride in practice last year at night, and this year's is way better because I get to compete--under the lights and with the crowd there's just so much energy.
What do you think about your competition tonight?
I think all the best riders are here in the final and it's going to be a good contest.
Having any issues here at practice? Are you able to keep your speed?
Yeah, we've got our wax tech up here from the US team, and he put some speed on my board, so I've good on speed so far.
And finally, who do you think should have won the big air last night? Did Travis deserve gold?
I thought Mikkel Bang should have won. His switch back 12s were perfect.