About two weeks ago, I ran a post about Matt Walker and his Surf-First.org project. If you haven't gone to the site and taken the survey, you can do it here.
Basically the inspiration for Surf First came when Walker wrote "The New Localism," piece for Surfing Magazine about surfers taking a more active roll in protecting surfers' rights. While many of our goals may be similar to environmental and other recreational groups, its time we started clearing our own path toward that common destination, because they day might come when we cannot afford to hitch a ride with the Sierra Club or the local fishing organization.
What would be ideal would be for the "New Localism," to develop a movement of its own, wherein we channel our greivances in a better direction, because the dude who's going to tell you to go back to the Valley, the City, or the Mainland - is rarely the guy who has his sh*t together enough at a town meeting to express the concerns of his community.
That has to change. I remember a few years ago the City of Long Beach, New York, was embattled over an Army Corps of Engineers plan to pump and fill the beaches (potentially ruining the famed beach breaks.) Co-owner of unsOund Surf, Dave Juan, explained to me how the local surfers were dealing with it.
"If you don't show up at these meetings, don't expect to get waves," he stated, "that's just the way it has to be."
I thought this was genius. Here's a well-respected ripper, who is not only setting an example by getting involved, but was using his juice in the line-up to apply pressure to other surfers to act. They had hundreds of people show up and they avoided the project.
Imagine for a moment, Da Hui only tried to intimidate those people who were for the Turtle Bay Expansion, or getting vibed at S-Turns because you were too lazy to sign a petition for open access to the Cape Hatteras Recreational Seashore. Jim Moriarity should have his pick of set waves at Lowers! (Read his very poignant Call to Action blog entry here.)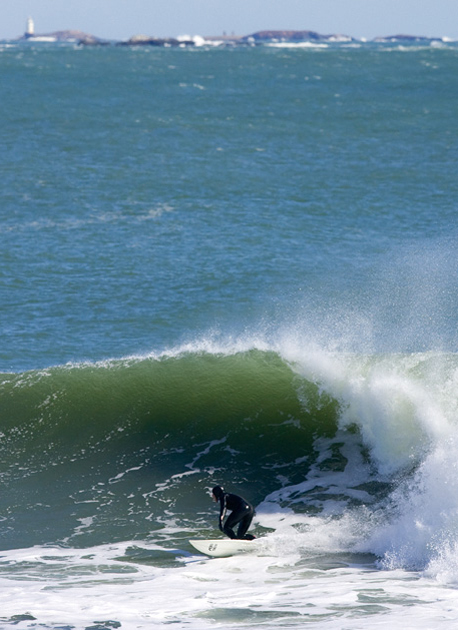 So, there's my rant about the New Localism. Instead of drawing wax penises on cars from out of state, make sure that car is at your next beach clean-up — tough guy.
Today, I have two great examples of surfers making a difference in protecting our rights. The first is the slideshow by the Rhode Island crew at Clean Ocean Access this Saturday, January 24th, at Easton's Point Pub, Middletown. The slideshow will feature ESPN Surfing frequent contributor, Luke Simpson, and will benefit COA.
C.O.A. is a non profit that seeks to organize surfers in dealing with water quality and access to breaks — two issues that are very relevant in Rhody. C.O.A has worked to maintain historical right of ways and also has a volunteer water sampling corps to monitor how much poop is in the soup. Get to the slideshow and go here if you've gotten sick after surfing in Rhode Island, and tell your elected representatives all about it. Surfer/Meteorologist Dave McLauglin is the brains behind this very new localism, in a land with plenty of the old stink-eye kind.
Instead of terrorizing some kids, throw the fear of god into your local town council when you show up at the next meeting about a designated surf beach or an outflow pipe rolling 60 dudes deep.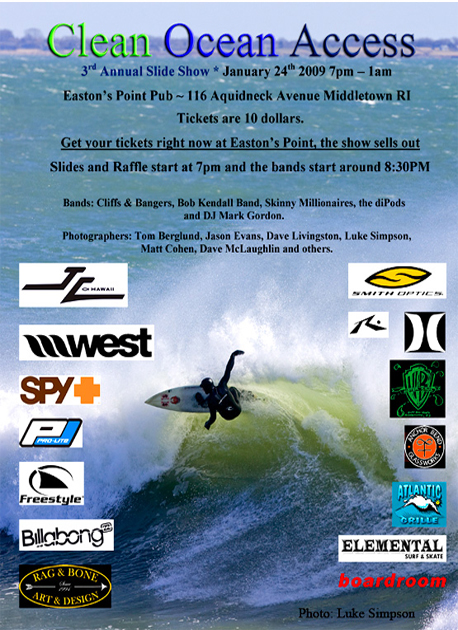 The other positive I was clued into lately, which got out by and large thanks to this article by Catherine Kozak at the Virginia Pilot, was the announcement that Dare County, NC, has proposed beach access and parking at S-Turns.
S-Turns is one of my favorite breaks on the East Coast. But what's even scarier than making a heavy drop over shallow sandbar, while Mickey McCarthy documents your potential embarrassment, is getting out of your car. The shoulder of the road at the northern tip of Rodanthe is about six inches wide. So, while you're standing there in a towel, struggling with your wetsuit, there's a 4x4 flying past in a hurry to catch the 10 cent shrimp deal, just inches from you.
According to the story:

The proposed access would be on about 7 acres of county land adjacent to the Mac Midgett water plant on N.C. 12.
Plans for the site include a parking area with bike racks, a picnic area and public restrooms on the portion next to the road. For the beachfront strip, situated on high ground, the proposal includes a gazebo, a volleyball area, restrooms, showers, a wooden access to the beach and possibly a playground.

And public access is nice too. No one wants to run across a private residency, but when you see those promising bowls, you'd run through your own mother's flower garden. Now there would be a clear public beach access. This is a direct result of surfers taking action instead of bickering with homeowners (and drawing more wax penises.)
I don't want to get overly confident, but the media says we're entering a new era in American politics. As surfers, lets not stay stuck in the old era.