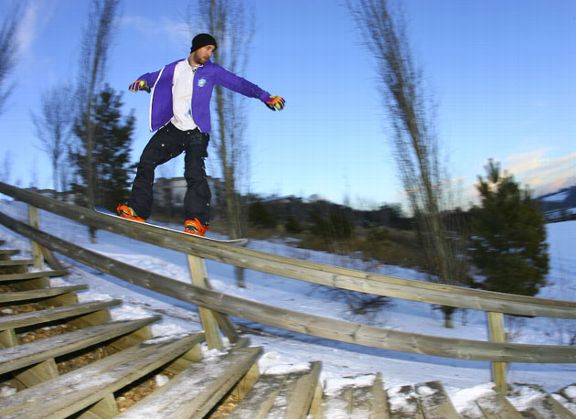 Canadian rider TJ Schneider is the genuine article: multi-talented; true to his friends; contemplative; and never one to follow the herd. His longevity in the fickle pro scene is a testament to both his unwavering skills on a board and his ability to stay true to who he is, regardless of what "the market" is doing. And, aside from owning a larger slice of the shred Internet than most magazines, creating art like a man possessed, coaching at
COC
every summer, and designing products for longtime sponsors like
Capita
, TJ manages to keep his snowboarding personal—without hogging it all for himself.
Continue reading "TJ Schneider's Real Realm."
Okay, how many web sites do you have goin' right now? You've got your tjschneider.com, Snowboard Realms , Flickr sets, Blogspot, Myspace, Facebook...and probably a host of others I don't know about. Your server bill must suck!
I work on way too many sites. All of the above plus Freecaster, Capita, Snowboarder, Push, Thesnowboardrealms-team, MTNOPS, Method, Snowbroader.eu—the list goes on and on. I need an assistant. It's a full time job just trying to keep up with that end of things.
Tell me a bit about Snowboard Realms... It seems really legit DIY, i.e. "all TJ" (except when your buddies are filming you).
The original plan of the Snowboard Realms was to just share snowboarding with people that were interested. It hasn't really changed too much... and the only difference now is that I'm trying to get people involved in it as much as possible. The videos are really DIY. I don't have anyone helping me with these things but I'm trying to make it look as good as I can. I'm a fan of DIY stuff so it fits. I update everything as it comes, some days it will be three times a day, sometimes once a week. Since I'm the only one working on it I don't really schedule things, I just try to keep it fresh and up to date as possible.
You had a strong web presence a long time ago, way before most pros had their own pages. What is it that you like so much about Internettin'?

I just feel like a lot of pro snowboarders want to be heroes but don't want to be friends. I just like how I can share things and kids can share them with me.
I like that it brings you into the community. I just feel like a lot of pro snowboarders want to be heroes but don't want to be friends. I just like how I can share things and kids can share them with me. I've met so many wonderful people through the Internet. I know so many kids from just a photo but it's so rad when I actually get to meet them, take runs, share a high five, handshake and hugs. It's cool because it takes away that, "What do I say?" or, "How do I introduce myself?" It's just, "Hey, how are you?" or, "So rad to meet you..."
It seems like your sponsors are all backing Snowboard Realms and getting behind your project. Are they stoked you're doing your own thing regularly like that rather than committing all of your energies into, say, a traditional film part? How hard is it to do both?
I hope my sponsors are stoked. They are backing it up by helping me with the cost of running it so that's rad. I don't really know what they think about it too much; I just keep making the movies. I don't think it would be too hard to film a real video part and make the realms at the same time... The video company would be bummed though because I'd show all my footage before the movie came out and I don't think companies like that too much.
The Realms vibe reminds me a bit of the newer Think Thank stuff: good sense of humor; not "going for gold" all the time; more organic riding...
The Think Thank videos do a really good job of keeping it fresh and fun. I think they are amazing for sure, one of my favorite videos to see each year. As for my videos, I just try to show the mood of the day and have as much fun as I can...try to show people that it's not all about being the best and having a huge attitude and ego. I mean come on: it's snowboarding; it should be fun.
Have you been painting and drawing much lately or does snowboard season hurt your productivity on the art front a bit?
I paint and draw every day when I'm home, and I always write when I'm on the road. Art is as much a part of me as snowboarding. I'm one of those people that thinks way too much and if I don't get it out of me I start to freak and get really bummed out, so I'm always doing something.
I'm also wondering whether people who order your art from the web are usually snowboarding fans of TJ, pro shred, (who are maybe fans of your art via your snowboarding) or if they're just people who like your painting/drawing style and maybe don't even know about your riding?
I don't really know who is looking at my stuff or interested in it. My hope is that they just like it for what it is or they can somehow relate or feel something from it. Whether they know me form snowboarding or not it doesn't matter to me so I don't really ask them.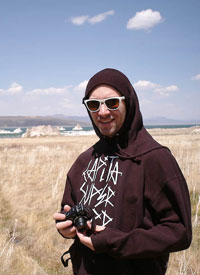 It's funny but I always find my eye drawn immediately to the way you use text in your work (usually handwriting): videos with text on top...painting with words that function almost like song lyrics built into the image.
Words just make it easier for me to put things out there. Have you ever tried to draw or express everything you're feeling at that moment through a picture? It's hard! I like to write things that are real feelings or things that are happening to me at that very moment. I've always been drawn in by text in other works. In books I'll get lost in one-liners all day long and I like to think that, in my work, the [text] makes you look past the obvious and draws you into the work making you think about it a little more.
What's your family like? What do the Schneiders look like if you line 'em all up and play 'spot the TJ?'
My sister and I are close and I'm closer to my mom now than I have been in the past, which is really cool. The last few years we have had some things happen which brought us a little closer and opened up a few doors of communication to help us understand each other. My dad's side is a little tougher. Everyone just seems to do their own thing. I'm not really close to anyone on that side of the family. After my grandpa and dad passed away, I made sure to get closer to my grandma—which was amazing. I went to see her four or five times in the last two years before she passed away last October. She was so awesome. I was really happy to hang with her for a while... But if you lined up everyone in my family there would be no problem at all picking me out.
Continue to part two with TJ Schneider here.