You could tell Sunday was a bonified east coast pow day: by the time halfpipe got crackin', the mood at Mount Snow was delirious. It had to be—or no one would've been withstanding the brick-ass wind that was steadily punching in the faces of the two-hundred or so spectators.
The action itself boiled down to the familiar sight of Frends—Pearce, Davis, Aguiire, Lago—trying to fend off Shaun White, with a surprise rally from Steve Fisher tossed in. But then Weezy dropped back in and was all like "AHHHH no you don't."
Yo Shaun everyone has been saying over and over how disappointed you were after the first Dew stop at Breck. Were you really feeling that bad about it?
Yeah, I was pretty upset with myself. I had won the slopestyle and that felt great but I knew I had this mean run for the halfpipe. I put it down and it just didn't pan out for me. I wasn't mad, but I was frustrated. I didn't know what I needed to do to step up my score. Obviously it is a new event and everybody is just getting used to things and I don't think I was the only one that was having a hard time with their run. It's tough man, it's one of the first events of the season, we're all winging it and I'm just glad I pulled it through tonight.
You were sitting in 8th place before your second run. What were you thinking about?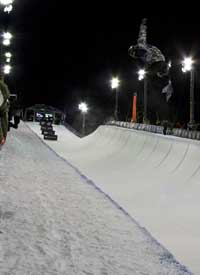 It's funny because I kinda thought about this moment now and said to myself like "I'm either gonna be so happy or so mad after this!" [Laughing.] I was at the top and I knew I had the run. I did it in practice so I basically just had to stop thinking and just go do it.
Word. Can you take me through it?
I did a back rodeo at the top, Japan grab, then I did a backside 900, front 1080, cab 1080, then I did, like, a Japan front 7 and then a switch backside alley oop rodeo.
Did you know it was a wrap after the last hit?
You know, I almost didn't really care. I knew I stuck my run and that's all I really cared about. I knew I nailed my run. I hadn't done the best run on the first one but I still had a decent score so I knew that if I really put that down—with all the pressure and being the second to last guy to drop—that it would give me a good score.