The way Chet Childress describes his art and his show is strangely inspiring. Out of a sort of madness, you understand the newness, the excitement of getting down and getting creative—nothin' too highfalutin'—just slopping up canvases, gluing something here, pouring something there, farting and tagging walls. It's a lot like his skating, which has been a blast to watch for the last ten years, for just being what it is, snakin' sh*t, hittin' one wall and then the next. Nothing's too planned, it's all real. He's got an eye for something. If he's not feelin' it, he'll say it and he said it to me. But, it's always appreciated (after all, asking people questions all day, you're bound to ask some stupid ones and that one was pretty stupid). Straight from the disorder and ginger madness in his mind, comes technicolor art, screaming images to show his friends and aimless shredding. This is the Mind of a Luda-tic (in his writing)—Josh Brooks

Is the art physically done with the crooked arm or does it transmit its influence through your straight arm?
it has nothing to do with my arm.my art basically comes from my travels,friends,the city i live in and my influences....

What's the inspiration for your art?
my inspiration is my individuality and purpose in life.i feel everyone is a artist.some people just dont know they have it in them.i mean your a artist if you make a good sandwich,paint pictures,shoot photos,underwater basket weive,etc.you have to find your outlet and pursue it.being a skater i have time to know myself and art is a great way to pass time....



Is most of the painting done with spray paint or do you ever get Van Gogh with a brush?
my art is all a.d.d. inspired.which means nothing is planned and things get made quick.i paint,glue,tag,spray,fart,mark and pour.my favorite canvas is a bathroom wall i must admit.i just read some old farts blog where they called me a vandalizer.man people who have time to write on message boards are the lowest of low lifes out.they have no lives so they comment on everyone elses lives.it must suck to not have a life.what truely misarable lives they must live.....im thankfull skateboarding handed me individuality.....

What's the most light-headed you've gotten spray painting sh*t? Any near pass-outs or head-splitting hallucinations?
nah.i got high tollerance to all that maddness.its not the fumes man, its the drugs...

Bikes seem to be a mild theme in your art and photos. You hung a fold-up mini bike at your show. What's the significance of that?
to me biking is freedom.its way to see things and excersise.you dont realise how much sh*t you dont see while driving your car.skating, walking and riding a bike you get to endure the canvas called the streets.now the bike i hung up in my show has a story.we were in china,shanghi filming for the nike movie.tons of people rides bikes there and i wanted to go on a ride.it was my birthday,so me and omar salazar walked into this bike shop by the skate spot.forty dollars later i had a fold up bike to ride around the city.when we left i folded that bitch up and brought it back to the united states.



A lot of your pics are architectural landscape photos, too, like bowls, fences, the Red Square, snake runs. Are those attractive images for you or is it just a coincidence?
man i know a canvas when i see one.so i would be stupid to not capture all the sh*t i get to see.since my friends dont get to see the things i get to see,i feel obligated to capture images to show them.and i have the worst memory in the world.it helps me remember how good life really is.

Do you look for things in particular or do you just shoot away and hope you get something?
im a skater,i have a vision.i mean our whole lives we grow up absorbing magazines and the pages ,so when i see something cool it screams out at me.it sorta talks to me.its says look at me fool.take a photo and im like yea right i should.but no one else can hear it at times.get it???????

Aside from recent art soirees, you're known for skate parts filmed inside bowls and snake runs, winding back and forth from side to side (as opposed to past stationary filming from the side of the bowl). Who filmed most of those clips? Have you ever taken out the filmer?
ive been blessed to film with my homies.preston and shark attack.they know how to push a button and deal with my maddness.for the record i film with fools that skateboard.hows a guy gonna film that dont skate??????thats some instant nerd shit.....skate fool.were a gang,a army and we got to stick together...



Street Chet has been showing up recently in videos (i.e. nollie front heel on the bank, street lines, etc). Have you been skating street more with the Nike team?
i always skated everything.i didnt have a choice.its sorta like being a artist that only deals with one thing.i feel skateboarding is about skating all them canvases in your face.it might not look the best but ill try....im happy with the way i skate now.i feel like i can be myself and go tick tack in traffic.im 34 and have been pro for more then 10 years.i think my sponsors know what there going to get.and theres no reason for me to compete with the skateboard industry.......i aint trying to change skateboarding,im just trying to roll with it....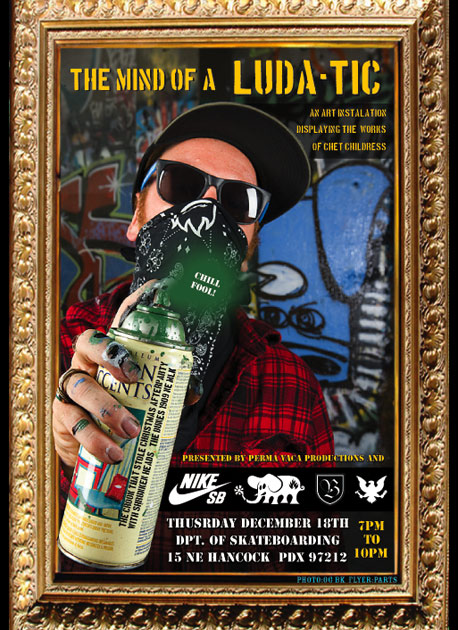 You are the master of the lien to tail disaster revert. Is that a product of the common vert wall/loveseat combo in the upper northwest, or does the trick just feel right?
this questions hella stupid fool.my best trick is pushing through traffic to get to burnside to skate.tricks are for kids fool...

Who backed the Mind of a Luda-tic art show?i got help from black label,brixton ltd,nike sb,department of skateboarding,shrunken head,elise and art...thank you all....

Is there any way to buy the pieces?
hell yea fool.....lets brew this...

Ballpark figure, how many flying beer cans have you left as your mark around the world?
ill say a million.my sh*t is on walls around the world.not in galleries but toilets and i think people go to toilets more then they go to art musuems.....