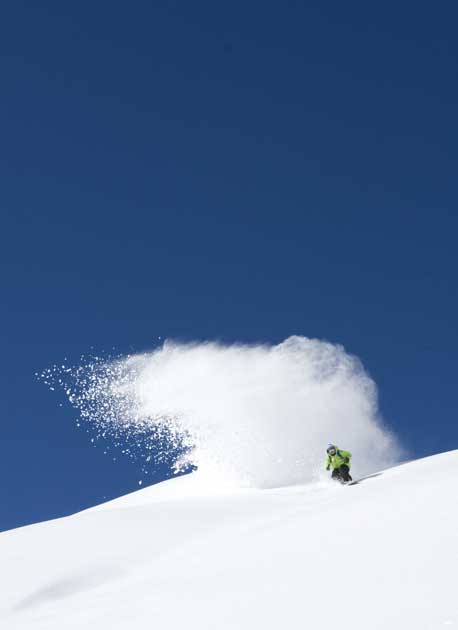 After 14 strong years with Burton, a surprise hit snowboarding this past September: That David Carrier-Porcheron had been dropped by the company. But a man like DCP—one of the most accomplished freestyle backcountry riders today—isn't about to let a "sponsorship change" get in his way. Just days into the 2009 season, DCP has signed with Northwave, Drake, and The North Face. And alongside two other ex-Burton riders from the Global Team, Romain De Marchi and JP Solberg, DCP is bringing to market a new board company. So don't think DCP has thrown in the towel. Not even close.
Read the DCP interview here:
ESPN: Hey man, where are you? Sounds like you're on a chairlift?
DCP:
[Laughing.] Yes, I am! I'm riding Brighton today.
Oh yeah? I hear it's been dumping for two days straight in Utah.
Yeah, yeah—it's so good today. Riding the Millicent chair. It's so powdery. It's been snowing non-stop, but it's sunny today. Going to be getting it all day.
Hmm, well that doesn't suck. Who are you up riding with?
I just signed with Northwave and Drake so I'm out here with the team. We're doing a photoshoot with Robbie Sell.
Oh nice. What riders are out there with you?
I'm shredding with Seth Huot, Matt Beardmore, Pat McCarthy, and Alexis Waite. Yeah, so five of us. Good crew.
Speaking of new sponsors, I hear you just signed with The North Face as well? How did that come about?
Well, first of all, you know I was with Burton Snowboards for 14 years, and then in September they decided to shuffle it around a bit and they didn't renew my contract and let me go. So I went on the search for some sponsors, and I happened to be in Lake Tahoe with my wife Megan (Pischke) who rides for and works at The North Face. They were having some meetings, but they saw me and were like, "Oh hey we're looking for some new team riders and we heard you're not going to be riding Burton anymore. We would really like to have you on the team." And I was like, "Oh shit, that would be awesome." I have so much respect for the brand and Johan Olofsson is on the team, so basically I felt honored to be offered the position.
So how are you going to be working with The North Face, other than just riding their gear?
I'll be helping with design on the outerwear, but mainly snowboarding. I'm filming with Absinthe this year, but what would be really cool is if I could get on a North Face expedition. That's kind of like their style, you know? Go camp out, hike some lines in some super exotic location. I'd be super pumped on that. I actually just got back from Bald Face Lodge with them. We were there for four days and it was, like, four feet of blower pow. That was a good way to start the year with them.
You can never go wrong at Bald Face. Now what about this new board company of yours?
Yeah, Romain De Marchi, JP Solberg and myself are starting up this new brand. The boards are going to be made in Switzerland. Right now we are designing the first round, and we'll be getting some sample boards in this week to ride. We're also working on a website right now and really we just want to create as much hype as possible. At the tradeshow (SIA) we're going to have a booth, and we'll be starting online sales soon. And then in September we'll have them in the core shops around North America and Europe.

We're leaning towards calling our company Yes Snowboards but I need to check with the boys to see if we've made the final decision yet.
So when we you be able to buy them online?
I think we'll have them ready for purchase online by February 14th.
And do you have a name for the company yet?
You know we're still back and forth about it. As of now, I don't really want to announce any names. Our first round of boards says Yes We Can on the bottom graphic. We're leaning towards calling our company Yes Snowboards but I need to check with the boys to see if we've made the final decision yet.
So maybe Yes but still tossing around ideas then?
Yeah, but for now we'll use the YES WE CAN graphic for filming and to start hyping up the brand. But by trade show we'll have the final name confirmed.
So I'm assuming Yes We Can is addressing the fact the it's not the easiest thing in the world to start a board company?
Yeah.
Yes we can
do it! Life after Burton, yes the three of us can have lives after Burton! [Laughing.] And you know yes, we have hope, and we want to have fun. Plus it's a play off Obama and a reference to his Yes We Can campaign. Which for us is cool.
Rad. Good luck with all the new projects man...now go ride some pow!
Yeah! Later man!