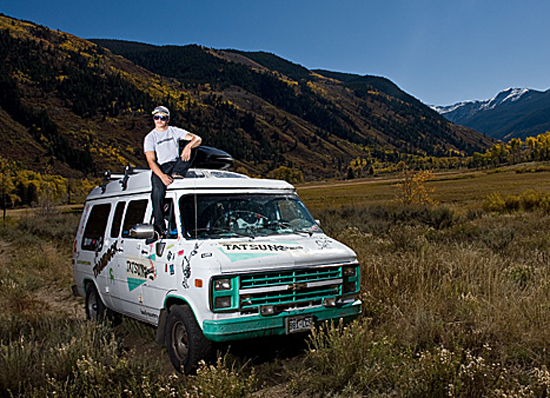 Piloting the Tats Van, an '89 Chevy G20 with "custom" paint and interior, Chris Tatsuno logged 90,000 miles in six-plus years of barnstorming ski hills around the West. These travels often coincided with stops of the U.S. Freeskiing Tour (and netted one Sickbird citation) and, with greater frequency perhaps, major storm events. The Tats Van, of course, also served as a place for
Tats
to crash.
The Tats Van also came to symbolize something bigger. A sighting of the Tats Van meant one of the forces behind the Aspen Ripper Factory, Tats, was in the house (literally or at least close by, depending on the hour). More importantly, in today's high-dollar world of skiing, the Tats Van reminded you that somebody out there was doing it cheaper, simpler, purer than you. And that's got to bring a smile to the face of any skier. (As such, Tats and his van were featured in Freeskier Magazine's current photo annual issue.)
So it's with heavy hearts that we bring you the latest news about the Tats Van: "It died Sunday by Hoback Junction, south of Jackson," Tatsuno confirmed yesterday. Odometer reading: 165,000.
Tats isn't giving up hope entirely—that would be totally un-Tats like—but for the moment he's stuck in Wilson, Wyo. And so is the Tats Van, perhaps forever. "Could be worse, right? It's snowing," he says. "There's always a silver lining."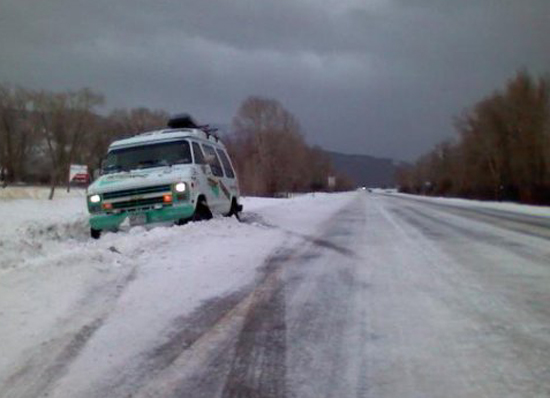 Tats' optimism is predicated on one other thing besides fresh snow: He's already got a new van lined up. He flies out to Michigan on Saturday to pick it up—an '03 Chevy cargo van. "Blizzard is selling me one of their old rep vans. They say it just got a new wrap, so I don't even know what it looks like but it'll say Blizzard/Technica. Kinda wild. I guess it means I don't have to spray-paint again anytime soon."
Tats laughs, then comes up with this: "I'm like a hermit crab crawling into a new shell."
ESPN Skiing: Take us through the Tats Vans' last days?
Chris Tatsuno: "I went over Teton Pass from Jackson to a New Year's Party in Driggs, Idaho. Fun times. And the next morning we were heading back over to go skiing. It had rained that night so it froze up and the roads had an inch of ice. I honestly felt like I was driving a motorboat—just aiming. And then I might have hit the gas a bit, or maybe the wind caught it, but I just went into a swerve. Fortunately, there weren't any other cars around because I whipped off the road. I think I did some damage to the undercarriage because that was some firm snow we plowed through."
How did you arrive at the final resting place of Hoback Junction then? "We got a tow truck to pull us back onto the road. Then we got 'er running. I was able to drive back over the Pass very slowly—a little new snow gave me better traction." "Then, a few days after the initial crash, on Sunday I was trying to coax 'er down to Utah and that's when it really copped out on me. It overheated, and the heater's out now too, and now my alternater's doing some stuff. So I only made it 15 miles south of town. A friend helped me tow it back up to Wilson Sunday night, and we found an empty lot near his house. Maybe I'll stow it there and then try to figure it out in the summer. ... It's really the sum of a lot of things. The thing's just coming apart everywhere. I tried to get the cracked windshield replaced recently—after a cop pulled me over in Utah and we had a little talk about it—but the windshield guys said the metal around it was so rusted out they couldn't replace it. They told me to see some autobody guys."
How many total nights in the van? "Let's see, I bought it in April 2002, my freshman year at CU-Boulder. And I always used it when I would go up skiing or to hit comps. But even then, to be fair, I've crashed on a lot of couches along the way too. But I'd say over 200 nights easily."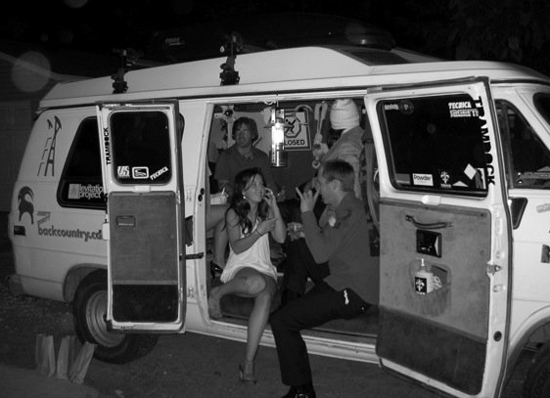 Will you be naming the new van? "I think we might have to. I'm thinking, yes, we will have to christen 'er. But I haven't thought of anything yet. I'm open to ideas for sure."