Well, the fight to save Trestles is over, we can all go back to sleep, right?
Not quite.
One guy who isn't being lulled into a slumber of ignorance is Surfing Mag Senior Editor, Matt Walker.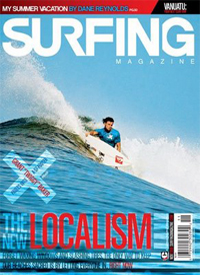 If you've read —ing for any time, you are aware that Walker is one of the sharpest pens in the surf journo biz. And if you've been paying attention for the last year, Walker has tackled the most pressing issues of our times — religion, language, politics — New Jersey.
It was while scribing his opus, "The New Localism," (November, 2008) that Walker realized just how little clout surfers had. Sure, we have our share of victories, but he found that we are often riding on the coat tails of some other organization, be it environmental, fishing, or Moms in minivans. Even if you're favorite surf spot isn't in immediate jeopardy, an El Segundo or Killer Dana situation is always just a political pen swoop away from a new marina, dredging project, or oil rig — meaning you could loose that surf spot very quickly.
"Nobody cares about your break as much as you do," says Walker, who just launched Surf First, a web-based movement to empower surfers.
According to the site,
Despite being a 1000-year-old sport with a $7 billion industry, surfing has failed to produce the demographic and economic studies to show who we are, where we live, and what we spend. So while other interest groups bolster their arguments with impressive numbers to prove their positions, all-too often, surfers get blindsided and bowled over, unable to offer a single hard number to support their cases or save their breaks.
Every user group and industry that winds up in conflict uses hard numbers to back its cause. SurfFirst.org lets surfers take a survey to determine the economic worth of a surf spot. For instance, when you stop into a shop to pick up new 3-mm boots, then surf and grab a burrito, you put money into the local economy. If you live near a good wave, you pay rent or mortgage specifically to live near that break. In the long term, Sunset Cliffs or Sebastian Inlet draws mad duckets to San Diego or the Space Coast.
"The goal of this website - this survey - is to put every surf spot on equal footing and let the surfing public provide the info that will one day save their favorite zone before it's threatened. Then we'll create a resource tool they can access directly."
First things first. Stop reading this and fill out the survey here.
Okay, nice work.
Walker continues,
"One thing I learned researching "The New Localism" piece is that politics are selfish, period. Nobody looks out for 'the common good', everyone looks out for birds, or the oil industry, or whoever they represent, then they beat each other to sh*t until some compromise occurs, or, more likely, the little guy gets pummeled.
The good news is: surfers are as selfish as they get. The problem is, they're so selfish they often work against each other, whether it's longboard versus shortboard or company versus company, which is the main reason none of this research info exists already."
Walker first threw this at me on election night, which was a pretty joyous occasion (as it was for most people who value nature, freedom, and a world governed independently of corporations.) As we watched results in critical swing states, he explained how surfers needed to work together, and he was reaching across the media "aisle," so to speak to the major surf outlets.
"I felt if we are going to call out surfers for not playing together, we (the staff at Surfing) should lead by example. So, I reached out to all our main competitors. Surfline's already posted stories and put links on all their report pages. Surfer's Brad Melekian did a story in the San Diego Tribune. In the future, we want to have a blog open to any surf media representative so we get a wide range of issues and concerns, instead of the usual suspects."
Hey, Ceej even blogged about it.
So, is this editor going maverick on the surf activist network? Not at all. He's still supporting Surfrider, Save the Waves, and the other soldiers marching for clean water and access to surf spots. In fact, he's been working with Surfrider's Chad Nelsen, who did the survey of the economic impact of Trestles. And Mark Babski did all the back end work.
You know that feeling when you walk into a meeting or hearing for some surf related issue (if you don't, you should be ashamed) and everyone is looking at you like you just stepped out of Spicoli's van with a bagel tucked into your jeans? That's the type of thing Surf First is looking to overcome. And we shall overcome.