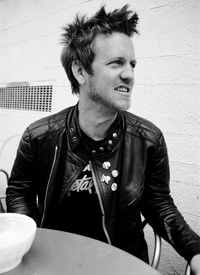 To intro this Jimmy Levan video, my editor asked me to write a short bio about Jimmy and tell you all what he's meant to me. The first thing I thought was, Well, where on earth do I start? The guy is a BMX legend and a pioneer in the sport. He is know for doing the gnarliest gaps and the raddest toothpick grinds that anybody has ever seen or attempted. He has been a trend-setter both on and off his bike, and with a grungy metal appearance, carefree attitude and love for life, he tells it like it is and takes it how it comes.
But don't be fooled by his rough exterior. Jimmy is actually one of the nicest dudes I've ever met. He's been through a lot - a whole hell of a lot, actually. I think its fair to say that he's had more than his fair share of bad luck. Earlier this year, he sustained a head injury while filming for the Odyssey video that almost cost him his life. And if that wasn't bad enough, not long after the head injury, Jimmy hit by a car and nearly killed a second time. That accident broke his leg so badly that it compounded the bone all the way through the skin!

Through it all though, Jimmy has managed to keep a smile on his face and somehow find the positive perspective to every situation. Even with the mishap of his recent injury, Jimmy's continued to build on his company, Metal Bikes and is hoping someday he'll be able to ride again. All this so he can continue doing what he loves. So, with that said, here's a look at his journey thus far. May there be many more years to come!

EXCLUSIVE JIMMY LEVAN VIDEO